What is Medical Pharmacy… and What You Should Know About It
Did you know that specialty drugs account for nearly 50% of total drug spend?(1)
Specialty drugs that are administered by healthcare professionals (typically in a provider's office, hospital outpatient facility, or through home infusion) are paid under the medical benefit—or what we like to call "medical pharmacy." These high-cost injectable drugs are one of the largest cost drivers of specialty spend but remain largely unmanaged and unrecognized in pharmacy trend statistics due to the complexity of medical benefit structures, numerous places of services, varied payment models, bundled claims, and endless data.
[Read about how Magellan Rx is unlocking the possibilities for better medical pharmacy management.]
What you need to know about the medical pharmacy pipeline
2019 was another record-breaking year of FDA approvals for specialty drugs. Nearly 60% of the 54 specialty drug approvals are for new medical pharmacy drugs, including seven biosimilars.(2) As of February 2020, 26 biosimilars are now FDA-approved for three different therapeutic categories and 15 have been launched to date (of those, 13 are oncology or oncology support agents). Additionally, six new medical pharmacy drugs were approved for rare diseases, including treatments for spinal muscular atrophy, anemia due to beta thalassemia, and sickle-cell disease.
[For more on new sickle-cell disease treatment, see page 11 of the October 2019 MRx Pipeline report.]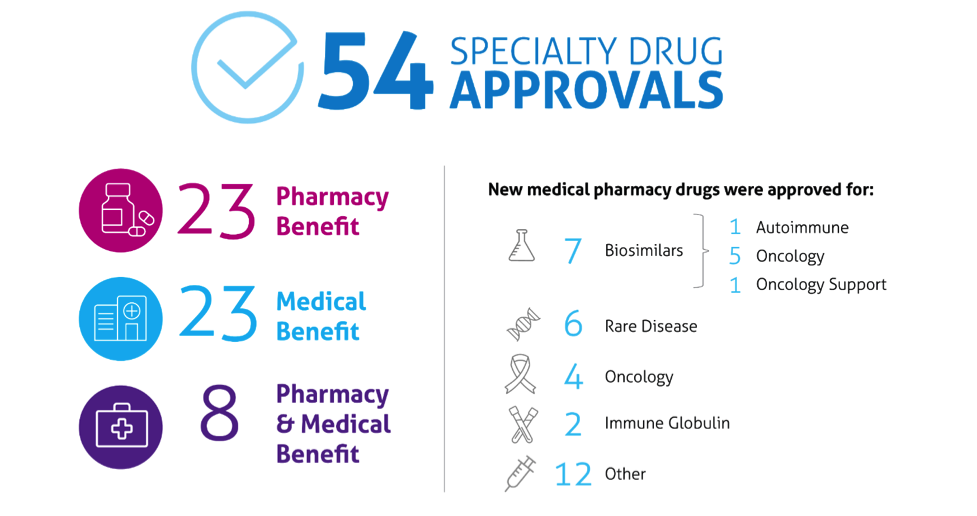 What you need to know about medical pharmacy trends
Given the complexities of management on the medical benefit and the ever-expanding specialty pipeline, payers are challenged with not only ensuring clinically appropriate care for their members but also implementing strategies to manage costs and rising pharmacy trend. But wait… isn't medical pharmacy spend largely unmanaged and unrecognized in pharmacy trend data? That's why Magellan Rx has been analyzing medical pharmacy trends for a decade, providing the industry's only resource for medical pharmacy drug spend, pipeline activity, impact analysis, and forecasting across all major lines of business. It's our deep understanding of pharmacy trend and what is truly driving pharmacy spend that makes us the industry experts.
Want to get more trends and hear the latest updates? The 10th edition of the Magellan Rx Management Medical Pharmacy Trend Report is coming soon! Sign up for our free webcast on Thursday, April 2 at 1 pm Eastern to hear from our experts and ask your most pressing medical pharmacy questions.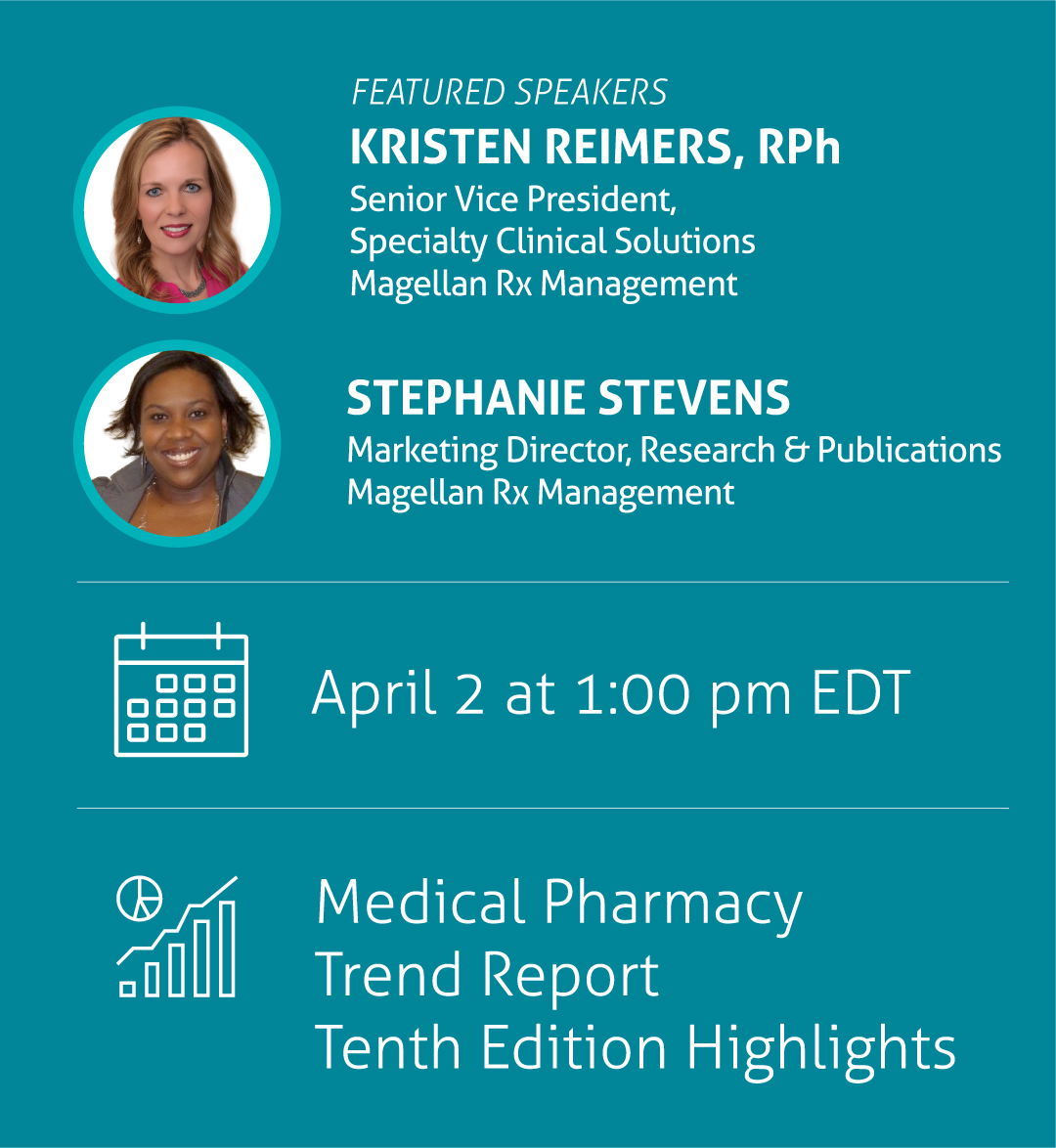 Institute Report. Medicine Use and Spending in the US: Review of 2018 and Outlook to 2023.
https://www.iqvia.com/insights/the-iqvia-institute/reports/medicine-use-and-spending-in-the-us-a-review-of-2018-and-outlook-to-2023
Magellan Rx Management Medical Pharmacy Trend Report™, © 2020. (not yet published)