Spotlight Magellan Health: Lauren Rust
Creating an accessible and personalized user-friendly digital experience is Lauren Rust's goal as vice president of digital experience at Magellan Health. Based in Houston, Texas, Lauren aims to make it easier for members to understand their behavioral health and find appropriate care, all while reducing the stigma surrounding mental health. By focusing on the needs of our consumers, Lauren and her team hope to create digital experiences that improve the overall wellbeing of Magellan Healthcare members.
Continue reading to find out more about what Lauren and her team are doing to redefine the digital experience at Magellan Health.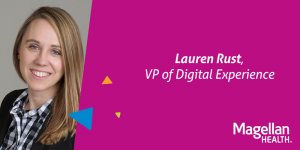 What projects are you currently working on at Magellan Health?
As Magellan Health continues transforming the space of behavioral health, a big aspect of that is reimagining our digital experiences. We're redefining those experiences and the ecosystem that supports them for our members, employers, and providers. It's about understanding the needs of our consumers and how we meet those needs. We start by listening to our members and taking the time to understand the member journey. Our undertaking is significant: providing integrated digital experiences that help members understand and address their wellbeing and mental health, access the appropriate care they need, and advance innovative approaches to improving behavioral health more broadly.
Why is Magellan Health the leader in this type of work?
Magellan Health is well primed to accomplish this work for many reasons. The first is that we have a long history of delivering the right quality of care to our members and meeting their mental health needs and helping them achieve wellbeing. We also have a culture that supports innovation and positions members needs at the forefront of our work. Additionally, our organization is mission-driven, and passionate about our members and the role that we play in transforming healthcare.
What are your thoughts on the culture here at Magellan Health?
There is tremendous respect and recognition across the individuals and teams that make the work Magellan does every day possible. It's a very collaborative environment, but also one with clear accountability which enables us to have empowered teams that are eager to take on transformative initiatives.
How does the culture at Magellan Health impact the projects you're working on?
It drives excitement and urgency. It's pushing innovation and a need to continue to evolve and support the needs of our consumers. All of which is essential to the work we are doing.
What are some goals you have in your position and what are some things you'd like to accomplish in your role at Magellan Health?
The most immediate goal we have is to meet the needs of our members by providing them digital experiences that enable them to find and access the care and resources that they need. To get there we are establishing a clear vision, a roadmap, and identifying the best-in-class experiences and offerings to improve wellbeing and mental health. Additionally, delivering on the needs of our customers and providers through quality digital experiences. We must address the behavioral, physical and pharmacy needs of people through an integrated approach that supports the member through their entire health journey. Equally as important, is the support we give to the providers who care for those members. We'll accomplish this through high tech applications complemented with high touch clinical solutions based on a collaborative model of care and seamless healthcare ecosystem.
Any other comments you'd like to make?
For me, digital transformation often feels like a lot of experiences being launched to deliver on a larger strategy. I think it's important that we're focused on the member journey and that we're trying to make things accessible, easy to access care, and understanding of your total wellbeing. We are excited to expand on Magellan's clinical expertise and scale by bringing it to life in the digital experiences we deliver.
Read more about the digital experience here.