Wellness in 2022: A model for everyone
While mental health, wellness, and self-care have been trending topics for years, more of us are prioritizing these critical aspects of our lives as the pandemic stressors continue. Change and new challenges are guaranteed in the new year, requiring a full-on commitment to wellness in 2022.
My awakening to the need for improved wellness coincided with a significant mental health crisis. The standard things I had been told to do to feel better for my emotional health were not working. I began the journey to incorporate meaningful wellness practices in all areas of my life. As I learned more about myself and developed a clearer vision for my future self, new facets of my wellness became apparent. I eventually experienced mental health recovery as a result of the shift to a holistic and multi-dimensional focus on wellness.
When Googling wellness, you will find endless lists of tips that would overwhelm just about anyone. So where do you start? Cue the Eight Dimensions of Wellness.
The Eight Dimensions of Wellness model
Over the years, I have found the Eight Dimensions of Wellness model to be beneficial in prioritizing my own wellness and helping others. This model was developed by Dr. Peggy Swarbrick in the 1990s and has been adopted by the Substance Use and Mental Health Services Administration (SAMHSA) and countless academic and healthcare institutions around the world, including in multiple healthcare disciplines and settings. The 8 dimensions provide a solid framework for us to understand wellness and make meaningful changes to improve our health, happiness, and quality of life.
I had the opportunity to ask Dr. Swarbrick about feedback she receives on real-life application of the model, and she shared that:
"So many people around the country have told me that the Eight Dimensions of Wellness model has been so very practical for them both personally and professionally. I appreciate hearing about how people use the model to view themselves more positively and build on their strengths to accomplish goals and overcome some formidable life challenges."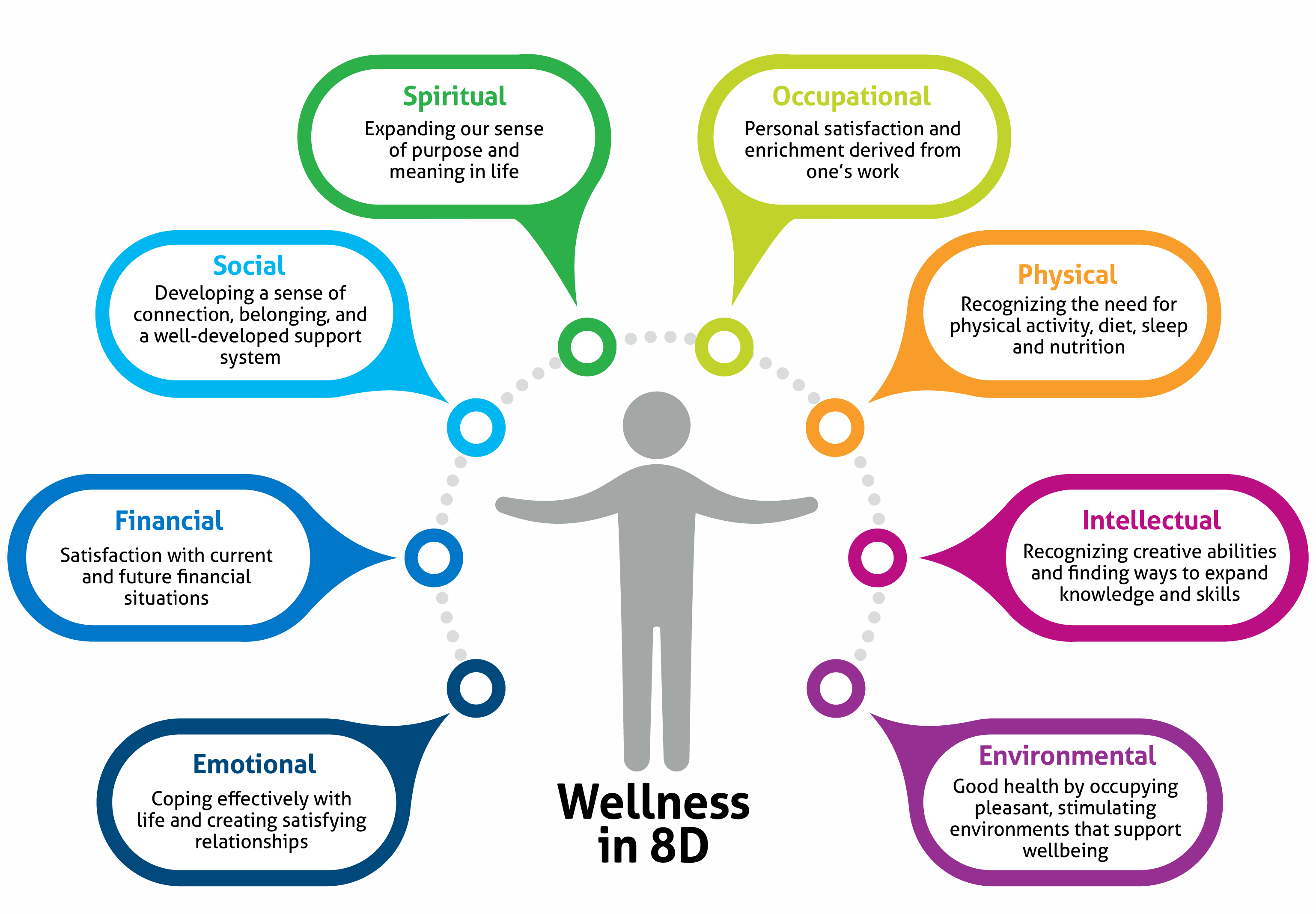 An interconnected framework for a wellness focus
Each of the 8 wellness dimensions in the model has an impact on the others. For example, I have experienced the profound interconnection of my occupational health with my spiritual health. I have been amazed by the degree to which my physical health impacts my emotional wellness. If I go a week without practicing Pilates or rowing, my mood worsens, and I am less interested in life activities.
Utilizing a dimensional framework for wellness helps in identifying the greatest needs and desires for focused attention. Without focus, we can end up investing time in wellness activities that don't impact the area(s) we are trying to improve. For example, if an extra hour of restful sleep is what your body and mind need for wellness, then taking an hour-long bath may not contribute to the desired return on investment.
Learn more to prioritize your wellness in 2022
In 2022, we will be exploring the Eight Dimensions of Wellness through free live webinars and resources to help you dig deeper into your wellness journey and provide you with the tools to support patients, clients, peers, and loved ones in doing the same.
We kicked it all off with a continuing education credit-eligible webinar, "Wellness in 8D: A lens to build resilience," presented by the Eight Dimensions of Wellness creator, Dr. Swarbrick, on January 27th. If you missed the live event, you can watch the recording here and still earn CE credits. Sign up here to receive emails on our wellness events series and new resources throughout the year.
We hope you will make the choice to prioritize wellness in 2022 and let us join you along the way!
Visit Magellan's Center for Recovery and Resiliency for announcements about upcoming events, new resources, and links to more free continuing education-eligible training opportunities and information.