Spotlight Magellan Health: Tim Daley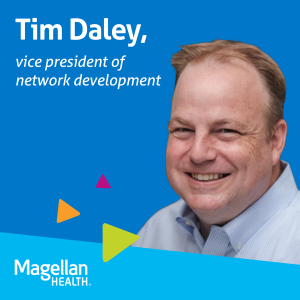 Finding the best strategies to achieve good outcomes is one of the many goals of Tim Daley. As vice president of network development Tim's two main responsibilities include network optimization and value-based contracting strategies. By working closely with providers to define a high-quality experience for members, Daley aims to create a more efficient member journey that creates excellent outcomes. According to Tim, leveraging Magellan Healthcare's experience and expertise in behavioral health will help strengthen provider partnerships. Read more below on how Daley manages network optimization and value-based programming:
What are some projects you're currently working on?
I'm very excited about our work on network optimization. We have a large national network, with members also spread out across the country, which has been developed over decades. It was time to assess our networks in terms of access, availability, quality, and outcomes relative to the varying needs of our members. We currently share actionable insights with providers via our new provider partnerships team. Ultimately, a high performing network that meets the unique needs of individuals will lead to better outcomes and lower overall costs for everyone.
On the value-based programs side, my role is to ensure Magellan designs and implements programs that achieve better results under alternative payment models compared to fee-for-service. Magellan has a long history of partnering with facilities on value-based contracts, and now we're doing the same with out-patient providers.  For example, a provider may see a patient for 45-minutes, and they want to be paid a certain amount for that session, which could lead to a "the more sessions I do, the more I'll get paid" mindset. Is that driven by the payment model or is that driven by the best experience for the member? There are several "disruptors" emerging in the behavioral health space, and I'm proud to say I am leading the charge on network inclusion while contracting in ways that ensure provider incentives are aligned with improved outcomes.
Why is Magellan Health the best place to do these projects?
I don't think there's anybody out there with more full-spectrum behavioral health experience than Magellan. We're focused every day on patients having a good outcome, a good experience, and how the care delivery model may require a little more care coordination or engagement at the time of transition.
Implementing true partnerships with our provider community is not just the network team's role, but a cohesive approach that spans across all departments within Magellan. Therefore, our people, their experiences and commitments to making a difference in people's lives, are the strongest asset we have as an organization.
What are your thoughts on how the culture is here at Magellan Health?
We've gone through a change over the past year with offices closing and a lot of people having to work from home, but I've seen almost everyone embrace that change. There's a real commitment here to what we do. I've talked with many other employees who have had their own connection to someone dealing with a behavioral health issue, many of which were exacerbated by the pandemic. So many of us have dealt with a behavioral health experience so we know what a good outcome feels like because we've lived through it personally. We need to continue to translate that into what we do day-to-day here.
How does the culture at Magellan Health impact the projects you're working on?
The personal experience and culture that everyone here brings and the dedication to this work despite challenges help everyone to be driven to do the right thing. We need to continue to move in that direction, tackling the larger issues and prioritizing energy on what makes a difference. If we can do that, then not only will Magellan succeed but patients will truly be the winner.
What direction do you see the healthcare industry going in?
I think behavioral healthcare needs have become more of a focus during and coming out of the pandemic; over the past year it's become much more of a focus. It really is all about people. Everybody's got something going on and we must look at the mind and the body one. When you put that together with the physical health side of things, I think we can do well by people.