Spotlight Magellan Health: Paul Messier
The role of being a leader is one that is of foremost importance to Paul Messier. As Senior Director of Federal Program Management, Messier, who has been with Magellan Federal since April 2014, works on programs that provide HR services to military members and their families. He is one of three Senior Directors assigned to the Human Readiness Division (HRD), where he leads six contracts that include 310 people located at 75 Army and Navy military bases around the world.
Messier shows pride in his leadership role by pointing out that everything in the Federal service delivery contracts is designed to ensure the human readiness of Service members and their families. He also points out that the same elements of human readiness that apply in delivering operational excellence to customers are relevant when engaging with Magellan's own employees in a culture of servant leadership. "Just as military members and their families are serving our Nation; our federal employees and their families are also serving our Nation in their respective military communities. If we expect our employees to address the human readiness needs of their customers, then we as leaders have an obligation to attend to the basic human readiness needs of our work force. From that perspective, human readiness has a double meaning to me – one is operational and the other is organizational."  Continue reading to learn more about Messier's work with the Human Readiness Division and what being a leader means to him.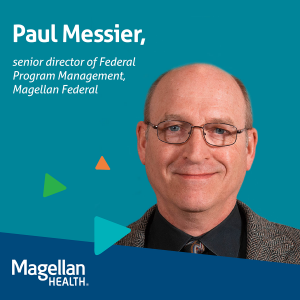 What cool, innovative projects are you currently working on?
Right now, I'm focused on developing a new leadership model for our division. This is a reality-based, relationship-driven leadership approach that emphasizes bringing our most authentic selves to the workplace and creating more welcoming environments for our employees that foster trust and transparency. It's an intentional effort to promote the health, well-being, and overall human readiness of our employees by integrating leadership principles and practices across four key domains:
Practicing authentic servant leadership that emphasizes emotional and cultural awareness.
Promoting a healthy work environment that fosters unity and cohesion for world-class service delivery.
Providing continuous professional development through mentoring and coaching of the workforce.
Encouraging shared governance that empowers employees to inquire, innovate and make decisions to the maximum extent within their professional scope of practice, and recognize them for their achievements.
I think there is a need for a model that offers a framework and training tool for sharing these leadership principles with our mid-level and junior leaders.
Why is Magellan Federal the best place to do these kinds of innovative projects?
I believe that when we consider our overall strategy of bringing products and services to the marketplace, we should always focus on being compelling, contemporary, and competitive. So, when I think about our collective role as leaders, I think about how we can apply these same principles to leadership. In these uncertain times, employees are asking for more from their leaders and seeking a healthier work-life balance. If we want to reach the hearts and minds of our employees and retain our human capital, we've got to find the courage to show them our own hearts and minds…show them who we are and how much we care for them.  If we can do that, then our message will indeed be compelling, contemporary, and competitive.
What are your thoughts on Magellan's culture? How has the culture impacted your projects?
Magellan Health and Magellan Federal leaders have enhanced our culture by opening an atmosphere of transparency. That culture will be propagated if leaders replicate positive messaging by flowing it down the chain and engaging with our employees. Leaders cope with change, and more change always demands more leadership. We have the right leaders in place and the messaging channels and mediums are fully evolved and robust.  The stars are aligned for a new leadership model that we can share with our junior leaders and employees. Our corporate vision emphasizes leading humanity to healthier, vibrant lives, so I believe our organizational culture should also emphasize leading our own employees to help them achieve healthier, vibrant lives.  That's what gets me excited about leading my projects.
What trends are you noticing in the healthcare industry that are related to the work being done at Magellan Federal? Are there any lessons from other industries that can be applied to the work happening at Magellan Federal?
I see many positive trends, but I also see that the healthcare industry faces many of the same challenges as an industry in general. There are remarkable things happening with innovative technologies such as artificial intelligence and digital apps that show great promise to improve healthcare outcomes.  But there are also issues and trends involving burnout of physicians and caregivers, politicization of healthcare, and issues of diversity, equity, and inclusion. What I try to do is learn the lessons I can from what I see happening around me and apply what I've learned as best I can when I engage with my own employees. To me, the common denominator when we look at these issues always seems to circle back to the need for authentic, reality-based leadership.
Learn more about the various solutions provided by Magellan Federal here.