Spotlight Magellan Health: Nikki Walker
Nikki Walker is the director of Federal Program Management with a focus on business innovation for the Magellan Federal Military and Family Life Counseling (MFLC) program. Walker, who has been with Magellan since 2012, oversees innovation projects and pilot initiatives that are either directed by our government customer or in collaboration with Magellan Health. Currently, Walker is working on the NeuroFlow pilot and the Arammu Relationship Checkup, a web-based counseling tool that allows military couples to check the status of their relationship health. They also learn how to manage strengths and challenges in their relationship with help from MFLC counselors. Continue reading to learn more about other innovative projects and pilot initiatives Walker is working on at Magellan Federal.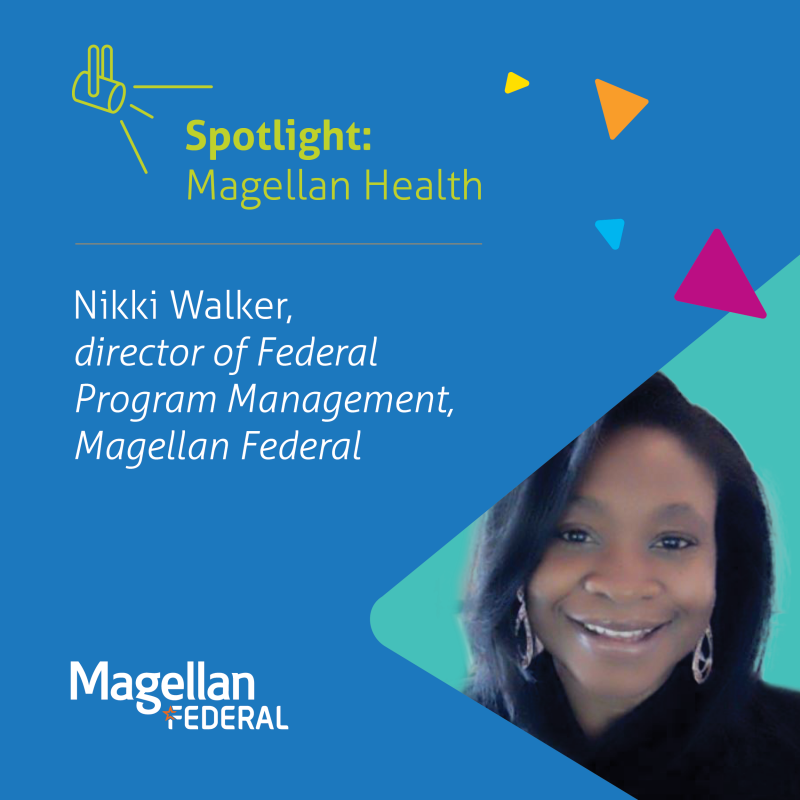 What sort of innovation projects are you currently working on at Magellan Federal?
I'm currently working on two exciting pilots that are moving the MFLC program forward into a digital dimension. The NeuroFlow wellbeing application is part of Magellan Healthcare's eMbrace employee assistance program. Magellan Federal has also collaborated with NeuroFlow on a pilot program tailored specifically for the military population that incorporates additional safety features. Our relationship with the NeuroFlow team has allowed for a successful rollout at three military installations.  This is truly innovative work within the Magellan Federal business, and we're excited to be able to offer this type of resource to our military members.
Another pilot we're working on is the Arammu Relationship Checkup. It's a digital-based questionnaire that allows military couples to rate their relationship health. Couples can go online and confidentially complete the questionnaire. The results of the questionnaire are immediately presented to the couples and provides concrete techniques to help them enhance their relationship wellbeing. The Relationship Checkup has had a positive impact on how we conduct non-medical counseling. Our MFLC counselors can use the Relationship Checkup in their non-medical counseling sessions to talk with couples about their strengths and any challenges they may work on to build their relationship. The pilot has been successful, and military couples have been very receptive of the checkup.
Why is Magellan Federal the best place to do these projects?
I believe Magellan Federal emphasizes collaboration as well as delivery. We deliver what's expected of us when innovative programs are requested. Also, when we are working on business development, we are very good at identifying its key partners and stakeholders who are critical to successfully execute and deliver the product or the service that is expected. This collaboration is at all levels and within different arenas: government, military, community, greater Magellan Health, and internal Magellan Federal teams. We're good at collaboration and building relationships, which help us deliver value to the customer.
What are your thoughts on the culture at Magellan Federal?
The Magellan Federal culture thrives on precision and accuracy. Getting things done right is very important. That supports what I've said about delivery. Our culture is about getting it right, which speaks to our professionalism, attention to detail, and the quality of the work we deliver. It's that high level of professionalism that's really rooted in delivering consistently. This is engrained in our culture. It speaks to the high level of quality work that our partners, the government, and the military want to see and why they continue to come back to us.
What exciting trends in the healthcare industry, related to military healthcare, have you noticed? In what direction do you see healthcare going? What lessons are there to learn in other industries that can be applied to healthcare?
One of the biggest trends is self-directed wellbeing or self-directed care. Many of our military members and families want something at their fingertips that allows them to easily access and navigate their healthcare. It's mobile first. Cell phones and the web are readily available to service members, so being able to deliver wellbeing and healthcare services by phone or web gives them the opportunity to get the care they need, when and where they need it. This is especially important with our younger service members and spouses.
Lessons from other industries we can learn from include how to diligently explore the best way to operationalize research-based work. Pilot programs are often based on clinical and research studies, which is good because you do want evidence-based work. But we must also have due diligence in properly translating evidence-based work into daily operations. That takes time and skill. We must be able to think through how to manage and mobilize the workforce to be able to deliver the product and the service. Being able to successfully transition from a clinical study to operations is a big task. Having a plan of action on how to mobilize your team and how to operationalize that clinical study is especially important.
Learn more about the various solutions provided by Magellan Federal here.