Spotlight Magellan Health: National Volunteer Month
Throughout the month of April, we are celebrating National Volunteer Month. We're expressing our gratitude to all individuals who donate their time and resources to local or national efforts. In this spotlight are three Magellan Health employees who explain why they volunteer and what organizations are most important to them:
Stephen Towns, director of project & program management, Magellan of Virginia
Matthew Podjeski, vice president, Human Resources
Barb Borowy, administrative assistant II
Continue reading to learn more about how Barb, Stephen, and Matthew donate their time: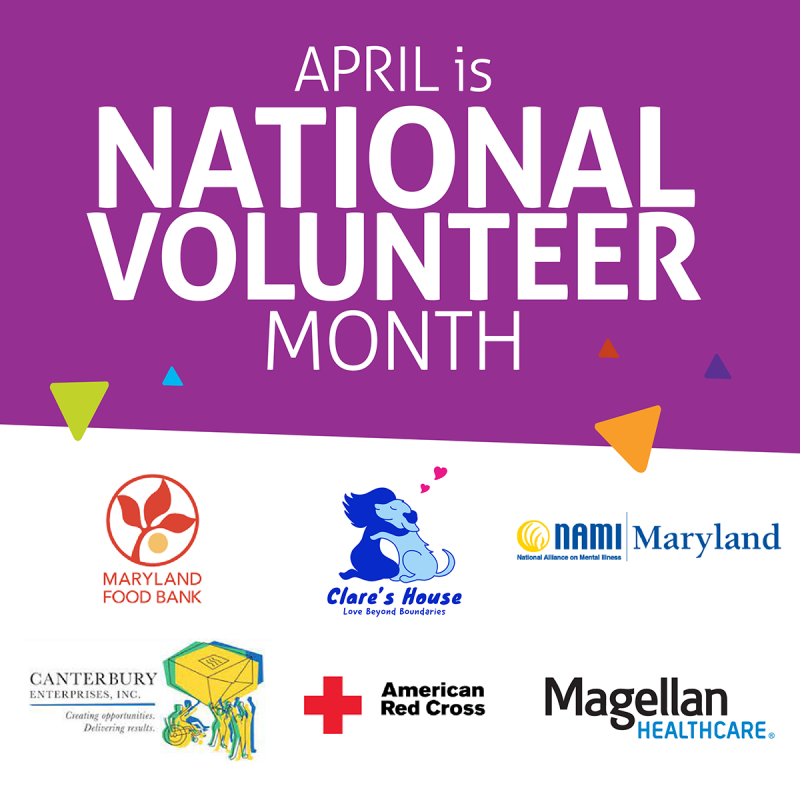 What volunteer work do you participate in and for what organizations?
Stephen: In 2016, I launched a church campaign to help remove the stigma of mental illness among Black Americans. I began lecturing and teaching classes throughout the faith-based community to eradicate the demonization of those with a mental illness, inform our community on suicide prevention, and offer alternative solutions for substance abuse.
Shortly after the start of the COVID-19 pandemic, a government-sponsored food program approached me, seeking a partnership with our ministry to distribute food to our community. In August 2020, we began distributing over 36,000 pounds of food to our community every Saturday morning. At our peak, we had several Saturdays where we gave away over 72,000 pounds of food in less than three hours! The community embraced our ministry, and in March of 2021, we secured the building where we currently reside. Last month, we graciously accepted an award for a grant to sponsor a program I created, "Eat Well – Be Well," which allows us to distribute $400 of fresh fruits and vegetables bi-weekly to a senior community we adopted. Helping to overcome the health disparities of aged people of color has been a tremendously joyful experience. We hope that if even in a small way, we can positively move the bar for the health of this community.
Matthew: I volunteer at Canterbury Enterprises, an organization that provides meaningful and nurturing onsite employment opportunities for individuals with disabilities. Our entire focus is on creating a supportive, engaging, and respectful workplace for folks whose abilities may not align with traditional workplaces. At Canterbury, our associates are part of a team, they are proud of the work they do, and everyone is dedicated to making it the best experience for each of our associates, as well as for their families. It has been fascinating learning the intricacies of running a sheltered workshop and navigating the legislative, accreditation, and business development opportunities involved, while never losing focus on those we serve – the employees who work at Canterbury.
I am also on the board for Clare's House. Similarly, when my friend Terry Economos told me her vision for helping seniors and people who are challenged to keep their beloved family dog at home, I knew I wanted to dive in. Clare's House walks dogs for people who cannot; we take beloved family dogs to visit their owners in assisted living and in rehab facilities. We offer fostering for those temporary periods where the owner is not able to care for their dog. We take dogs to groomers and help pay for medications and surgeries for folks who would otherwise consider relinquishing their beloved furry friend to a shelter. Clare's House partners with VA centers and other facilities to support their residents to house their family pets if they cannot.
I also have the pleasure of providing leadership and support for the passionate group of Magellan employees who affiliate with the Maryland Heights (St. Louis), MO office, and volunteer to lead awareness and fundraising efforts for our highlighted local charities. Each year, these employees to select the charities to be highlighted for the year. The planning team initiates communication campaigns, onsite volunteering activities, and general awareness. In 2022, our employees touched the lives of many people in our communities, raising over $28,000 in donations.
Barb: Although I continue to actively support NAMI Maryland and the Maryland Food Bank locally, I'm currently focusing my efforts on donating to organizations, rather than in-person volunteering.
How did you get involved with this organization and volunteering in general? How long have you been volunteering?
Stephen: In 2016, I accepted the invitation to lead the Glen Allen VA chapter of Magellan Cares where I created the first onsite volunteer fair. Our Magellan Cares team engaged our coworkers to attend and commit to volunteering. The fair resulted in over a hundred employees signing up to volunteer at participating organizations.
Matthew: I started at Canterbury in 2015 where my friend served as the executive director. I shared with my friend that I was interested in volunteering and knowing I work in Human Resources, he recommended I join the board of Canterbury. I started volunteering at Clare's House in 2020, the Women's Safe House in 2002, and Room at the Inn in 2014.
Barb: I joined the company in 1992 and was quickly asked to join the newly forming Community Affairs Committee. Our focus was supporting NAMI Maryland and United Way of Central Maryland. Once our Columbia presence grew, we added support to American Red Cross with monetary donations and blood drives held at the office, Toys for Tots during the Holidays, Grass Roots (a Howard County organization dedicated to assisting victims of domestic violence), and the Maryland Food Bank. Recently we participated in and obtained a corporate sponsorship for the 2022 Walk to support the American Foundation for Suicide Prevention. Additionally, we are currently gearing up for the upcoming 2023 NAMI Walks event.
Why is it important for others to volunteer in their communities?
Stephen: When we can find commonality with others, despite our racial, political, ideological, cultural, or socioeconomic differences, that commonality can overshadow any differences and fulfill our human need for community. When that human need is fulfilled, it motivates us to want to do our part, not just for ourselves, but for others. And, particularly for those who are unable to do for themselves.
Matthew: I hope Volunteer Month serves as the bright light that gets you thinking about how you can help, and whose lives you can touch, at any time of the year.  There are so many people and families in our local communities who struggle in one way or another.
Barb: As Magellan employees, we are fortunate to be able to help and most have a cause dear to their hearts. All small donations add up, and participation in a local event that raises awareness and visibility to an organization that is personally important can be life altering to someone in need.
Is there anything else about what National Volunteer Month you'd like to highlight?
Stephen: Magellan employees are fortunate to work for a company that encourages everyone to volunteer. Many non-profit organizations are dependent on people like us who are willing to volunteer and help others in need.
Matthew: Thank you to those people who had a vision to create a service or pull a group of like-minded people together to help meet those needs. Vision is not enough – to make a vision a reality, organizations depend on people who have similar passions and a desire to make the world a better place for others.
Barb: I, personally, am a huge supporter of the American Red Cross. In most cases, they are first on the scene of natural disasters, man-made disasters, personal disasters, or wherever assistance is most needed. Then there are the blood donation management efforts. It just seems like, whatever is needed, the Red Cross is always there; and I try to be there for them!
Read more about additional volunteer work done by Magellan Health employees in the communities we serve here.