Spotlight Magellan Health: Stephanie Cassanese
Since joining Magellan Behavioral Health of Pennsylvania (Magellan) two years ago, Stephanie Cassanese, stays busy in Cambria County supporting many different aspects of Magellan's business in the Pennsylvania counties served by Magellan. In her role as supervisor of Recovery and Resiliency Services, Cassanese first and foremost leads the recovery and resiliency team and leads MY LIFE for Pennsylvania, where she oversees all aspects of the youth and young adult program for all Magellan counties.
"I do many things and every day here is different which is one of the reasons I love the job. It's never the same day twice," said Cassanese. Continue reading to learn more about the many innovative initiatives Cassanese and her team are working on at Magellan: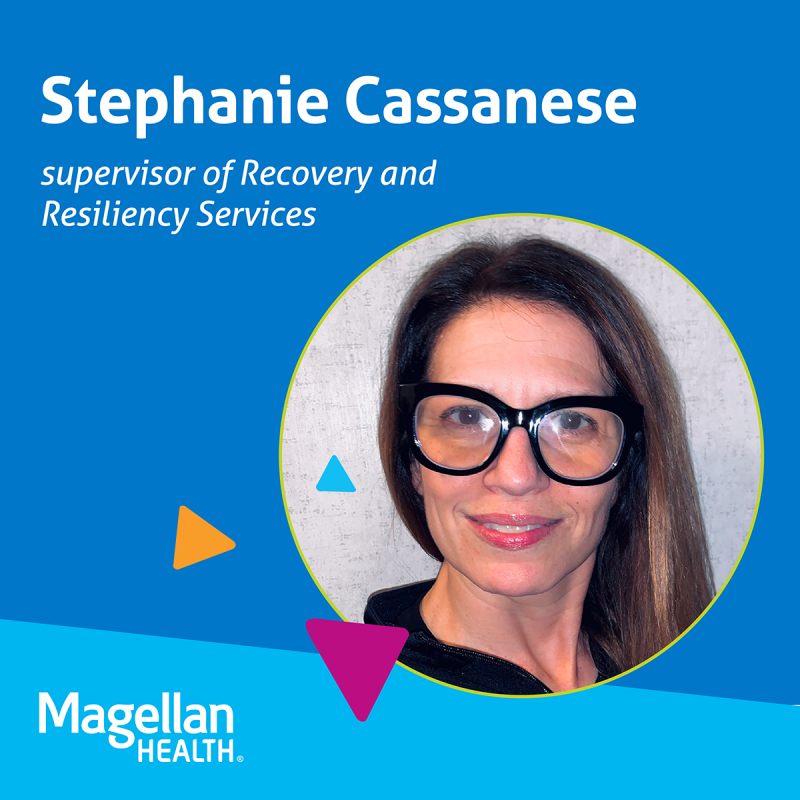 What project have you recently worked on that is impactful?
My team completed a project at the end of 2022 called the Peer Professional Employment Guide. It's a workbook that we provide to new certified peer support (CPS) professionals with the goal of providing a source of advice and inspiration. This was a part of our Workforce Development Project that we're continuing into 2023 post-COVID. There have been staffing shortages in every industry, but particularly in mental health. We've struggled to find and retain workers, so this is a part of our hope to retain newly trained peer professionals. There are a lot of individuals that get into peer support and don't know what they're getting into. The workbook shares information on everything from getting hired, interviewing, ethics, boundaries, and self-care. We also include testimonials from working peer professionals, so that individuals coming into peer support know what to expect.
Why is Magellan Behavioral Health of Pennsylvania the best place to work on creative projects?
Magellan is more than just a managed care organization; we really want to collaborate with the counties that we serve. I think Magellan encourages relationship building and that's really the core tenet of my job, just building relationships with our county and provider partners and reassuring them that if they have questions or need any peer support related information, they can come to me. That's something that Magellan really promotes collaboration and the idea of going above and beyond.
What are your thoughts on the culture at Magellan Behavioral Health of Pennsylvania? How has that culture impacted your team?
The culture here is really to be collaborators with our counties and providers. I think what differentiates us from other managed care organizations is that we're not just the people that pay the claims. More than that, we try to be present at different events together with other stakeholders. Leadership is supportive; they want us to be out there in Pennsylvania communities, and leadership is always looking to help make that happen. We always strive to do better than we did the day before, that's the culture here.
What exciting trends in the healthcare industry have you noticed? In what direction do you see healthcare going in? What lessons are there to learn from other industries that can be applied to healthcare?
The biggest one that comes to mind is the focus that the state and federal government is putting on suicide prevention and education. Since COVID, suicide rates have skyrocketed, and people are feeling more isolated and lonelier than they ever have before. This can also be related to another research push I've seen recently, which is on the impact of social media on youth and young adults on FOMO (the fear of missing out), self-esteem, and body image issues. I think that focusing on both, post-COVID, is going to be important.  Self-care has become common, and I think it is important that we encourage people to focus on caring for themselves, both physically and mentally. Magellan has also implemented a suicide risk assessment plan to identify members who may need additional support or treatment.
The healthcare industry also continues to conduct research focusing on things that are significantly impacting mental health, post-COVID. This is also more of a focus because our physical health and our mental health are one. When you're struggling with your mental health, then your physical health will suffer and vice versa. I hope we continue with that direction because they are not two separate things. We're one body, soul, spirit, and mind and it's all connected.