Spotlight Magellan Health: Customer Service Week
The first full week in October, organizations are taking the time to recognize and celebrate their employees in customer service. Customer Service Week is an international celebration that highlights the importance of customer service and those individuals who serve and support customers daily. We're spotlighting four Magellan Health employees who share why they chose to work in customer service, and some of their most rewarding and challenging aspects of working in this field:
America Phinsee, care worker
Kimberly White, outreach and engagement specialist
Edward Daduya, supervisor, customer care
Chelsey Aguilar, customer experience associate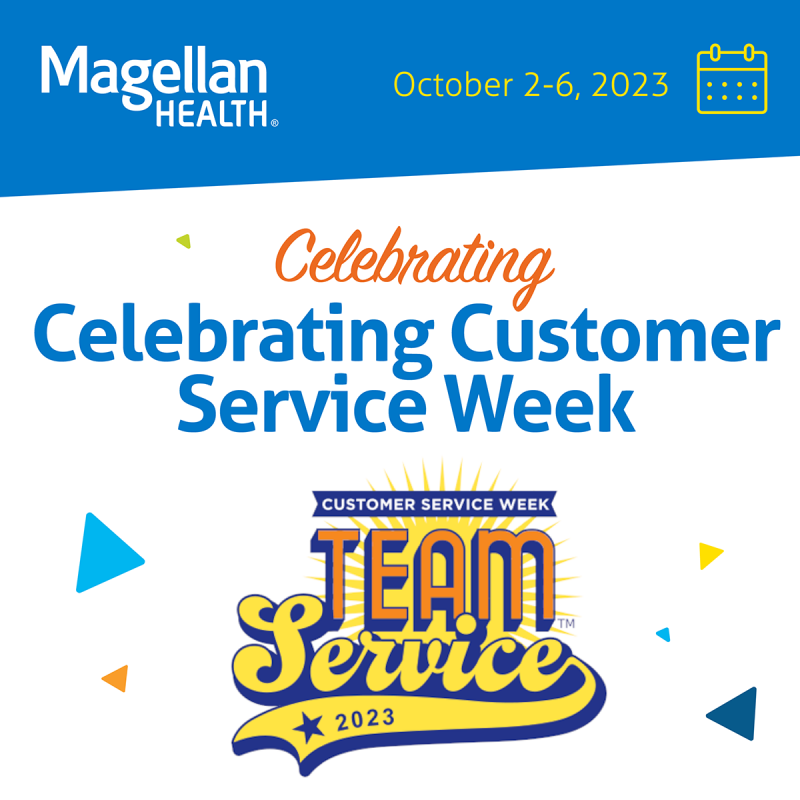 Continue reading to learn more from America, Kimberly, Edward, and Chelsey on their experiences working in customer service:
Why did you want to pursue customer service and what is the most rewarding aspect of working in this field?
America: I pursued a career in customer service because I have a genuine desire to help others in a way that directly impacts their personal or professional life in a positive way. The most rewarding aspect of working in this field is going above and beyond for our members and being able to hear the joy in their voice when you deliver good news to them.
Kimberly: Customer service chose me. I have always been in a role of wanting to help people find resolutions, that is the most rewarding outcome. Being that person who gets someone the help they need and hearing the satisfaction on the other end is very rewarding.
Edward: I decided to embark on a career in customer service because of my passion for assisting individuals and resolving their concerns. The most gratifying aspect of this profession is being given the chance to make a positive change in our customers' lives. It's truly fulfilling to recognize that I have the capacity to aid customers in addressing their challenges and leave them with a favorable perception of our company.
Chelsey: I personally pursued customer service because I genuinely enjoy problem solving and providing service that can initially resolve issues or concerns for people seeking answers. It is crucial to understand the importance of customer service because delivery of customer service can have a major impact in someone's life.
What are some challenges you face in this profession and how do you overcome them?
America: My biggest challenge in customer service is not knowing the answer to a question, sometimes agents are caught off guard and simply can't answer a complex question. However, the best way to overcome this challenge is to put yourself in the member's shoes. Ask yourself what information you would need if you were the member; then you will be able to anticipate the questions, you will find the answers, and be ready when the questions arise.
Kimberly: As much as I would like to say that every call is a success, it's not. Sometimes it's hard to connect with people. Some people just want to vent and are not going to be happy with me, my company, their health plan, or even themselves. In those situations, it's my responsibility to not take it personally, to listen more than I speak, be empathetic, ask questions, and try to do everything I can to get some sort of resolution on the call. At the very minimum set up a tone so when we do talk to them again, it might be a better experience for them.
Edward: The realm of customer service often presents challenges stemming from diverse factors, including managing clients, addressing intricate problems, and striving to meet elevated service standards. To surmount these obstacles, I place an emphasis on active listening, empathy, and proficient communication. Furthermore, I maintain an ongoing commitment to training and supporting my team, ensuring they possess the requisite skills to adeptly navigate these complexities.
Chelsey: The biggest challenge that I face in this profession would be incoming calls that relate to customer grievances. It's important to listen to the caller, learn from the mistakes, and if possible, resolve the caller's concerns. Callers need to be reassured that they are valued, and their time is important. We can build trusting relationships with our callers by initiating a safe space for callers to voice their concern and then proactively taking the steps to get a resolution for the caller.
Is there anything you'd like to highlight about working in customer service?
America: I believe that what we do is very important. We assist our members, and their loved ones to find adequate mental health. Some calls with members are better than others, but we must always show empathy and compassion. It helps to remember that our members are looking to us for assistance and when we deliver the help, our members can get their life back on track.
Kimberly: It's not always the easiest but there is always satisfaction in helping others. I always try to remember the phrase about how important listening is, "How can we help people if we do not listen to the problem first?"
Edward: Customer service extends beyond addressing customer issues; it involves cultivating enduring relationships. It offers a platform to embody our company's principles and showcase our unwavering dedication to customer contentment. This dynamic domain presents a diverse array of experiences, where each day brings new challenges and continuous opportunities for learning.
Chelsey: Essentially working in this field can help you become a more mindful person because customer service can help shape individuals to be more aware of their approach and delivery to others' concerns.
What does Customer Service Week mean to you?
America: Customer Service Week means this is the time in which we recognize, appreciate, and celebrate those on the front line, for without them, there would be no human connection over the phone.
Kimberly: It means a time for me to be happy and reflect on the impact I make within my organization and be recognized for it.
Edward: Customer Service Week holds a special significance for me as it serves as a dedicated occasion to honor and commemorate the steadfast commitment and diligent efforts of our customer care team. It acts as a powerful reminder, emphasizing the importance of the customer experience in our organization and aligning seamlessly with our foundational company values. This week is a time of reflection, celebration, and renewed commitment. It serves as a testament to our dedication to customer satisfaction, embodying our company's values at every step of the way.
Chelsey: Customer Service Week is a time to appreciate all of those who provide services to others. Whether it's a phone call to your insurance rep, the grocery store clerk, or the person behind the check-in desk, take the time to thank those who help you!