CAR-T Invoicing Construct: Specialty Pharmacy 2.0
As we look back on 2017, it was a year of many milestones on the United States (U.S.) drug approvals front. With 46 novel drugs receiving Food and Drug Administration (FDA) approval, it reached a 21-year high and more than doubled novel drug approvals in 2016. This count does not even include a number of biologics, vaccines, cell-based therapies, and the first ever, direct gene therapy for a hereditary disease.
Among the historic clinical highlights of 2017 was the landmark approval of two CAR-T therapies, tisagenlecleucel (Kymriah™) and axicabtagene ciloleucel (Yescarta™), for select types of leukemia and lymphomas, respectively. CAR-T or chimeric antigen receptor-T (CAR-T cell), is a multiplex process where a patient's T cells are harvested, genetically modified, and infused back into the same patient to fight cancer cells.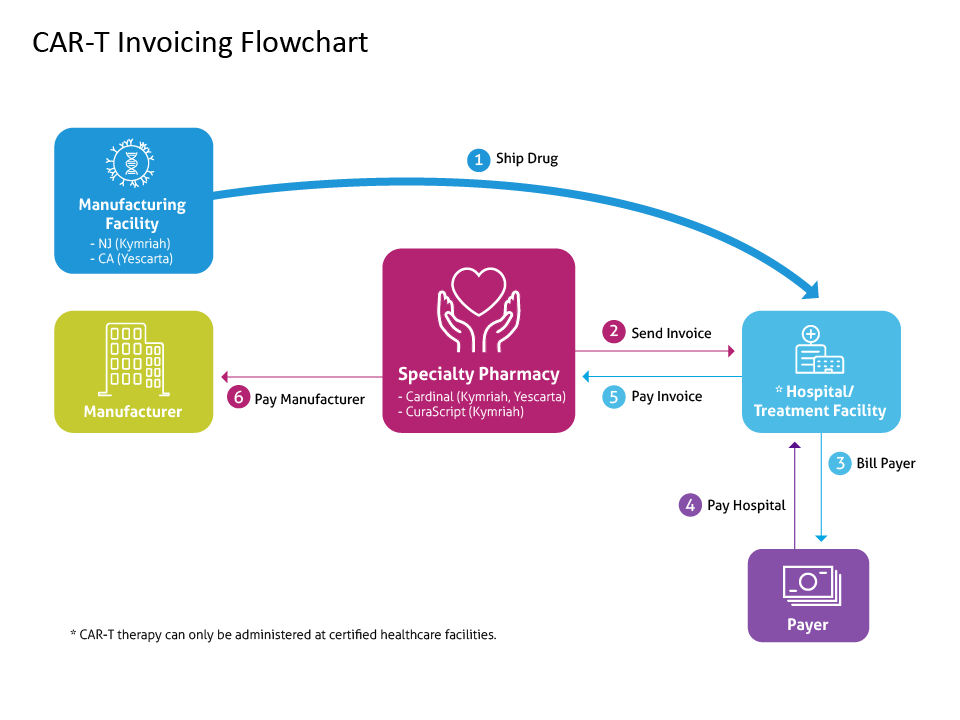 The role of specialty pharmacies in the invoicing construct for these costly CAR-T therapies is a fascinating component of these new treatment modalities. As illustrated in the CAR-T Invoicing Flowchart, the product is shipped directly from the manufacturing facilities to the certified hospital or treatment facilities. Once the certified hospitals take ownership of the product, they bill the payers who, in turn, pay the certified hospitals. The specialty pharmacies serve as the billing wholesaler between the manufacturers and the certified hospitals to invoice the hospitals and, ultimately, deliver payment to manufacturers. In this unique model, the specialty pharmacy does not handle the drug; rather, it serves as the invoicing clearinghouse between manufacturers and certified hospitals. Hence, there is no interaction between the specialty pharmacy and payers.
Specialty pharmacies are at the epicenter of care for patients with complex conditions. As a high-touch resource, they operate in a clinical environment that leverages specialty pharmacies' services to dispense, distribute, provide monitoring, case management, adherence programs, reimbursement, and a number of other services particularly for patients with complex and rare diseases. In the CAR-T invoicing construct, the specialty pharmacy takes on the exclusive role of shepherding the invoice.
As we look ahead, future complex therapies will present a new paradigm for all stakeholders including prescribers, pharmacies, payers, patients, hospitals, and regulators. Specialty pharmacies, as an invoicing liaison, may be yet another facet in the evolution towards the next frontier – Specialty Pharmacy 2.0.