Biosimilars & Their Impact on Medical Pharmacy Spend
Featuring excerpts used with permission from the Magellan Rx Management Medical Pharmacy Trend ReportTM, ©2020. Get a copy of the full report at magellanrx.com/trendreport.
In 2010, plans were just starting to manage drugs on the medical benefit; there were only nine approvals for medical injectable drugs, and biosimilars were talked about but still five years away. Now, the medical benefit is top of mind, and in 2019 alone there were triple that number of approvals—seven of them biosimilars.
For the 10th year in a row, the top five commercial drugs were Remicade, Neulasta, Rituxan, Herceptin, and Avastin. Remicade saw decreases in PMPM due to the introduction of biosimilars Renflexis and Inflectra. We may see similar trends in upcoming data, since all of these top 5 agents now have marketed biosimilars.
How have biosimilars impacted some of the top-spend medical benefit categories?
There are 26 FDA-approved biosimilar products across three different therapeutic categories, of which 17 have been launched. Fifteen of those are oncology or oncology support agents.
Biologic Drugs for Autoimmune Disorders (BDAIDs)
Trend remained relatively flat in this category as Remicade market share decreased, with biosimilars Renflexis and Inflectra beginning to gain market share (market share data for these biosimilars was not available for 2017 and 2018, but we expect to include it in next year's report).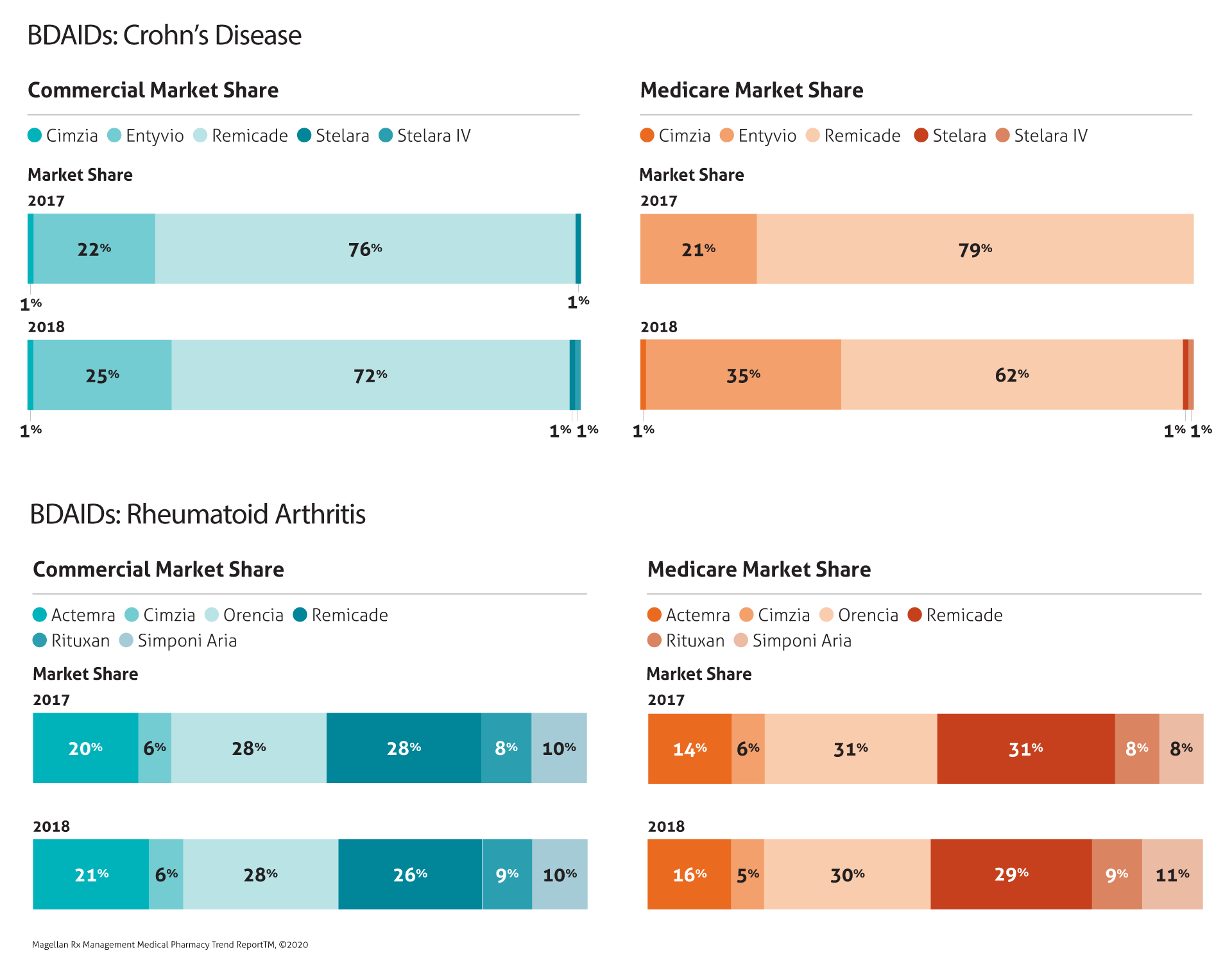 Oncology & Oncology Support
Oncology spend is a concern for payers, and oncology immunotherapies and gene therapy will continue to contribute to this spend. However, many opportunities for savings are anticipated with the biosimilars for Avastin, Herceptin, and Rituxan.
There are currently several biosimilars on the market in the oncology support category for the long- and short-acting CSFs and the ESAs. The predicted negative forecast growth illustrates their impact. Specifically, Neulasta biosimilars are now on the market, with Fulphila and Udenyca gaining market share.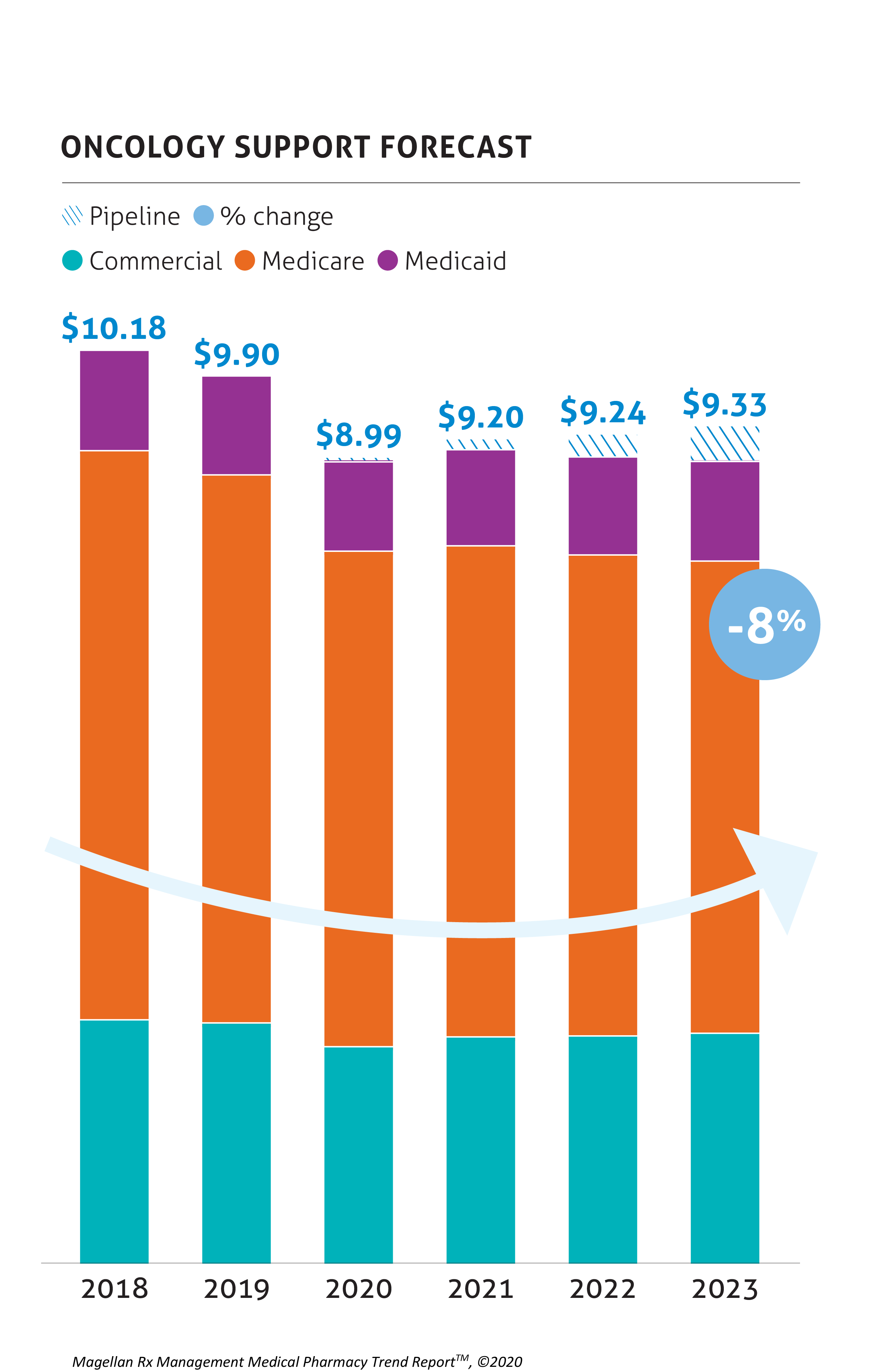 Payer feedback on current bio-similar strategies
The biosimilars currently on the market proved to have an impact on medical pharmacy strategy, as 40% of plans, based on number of lives, reported they were currently reimbursing based on a maximum allowable cost (equivalent reimbursement for reference and biosimilar). At the time of our survey (summer 2019), there were no oncology bio-similar products on the market, but payers were planning to utilize the same formulary strategies, including step therapy.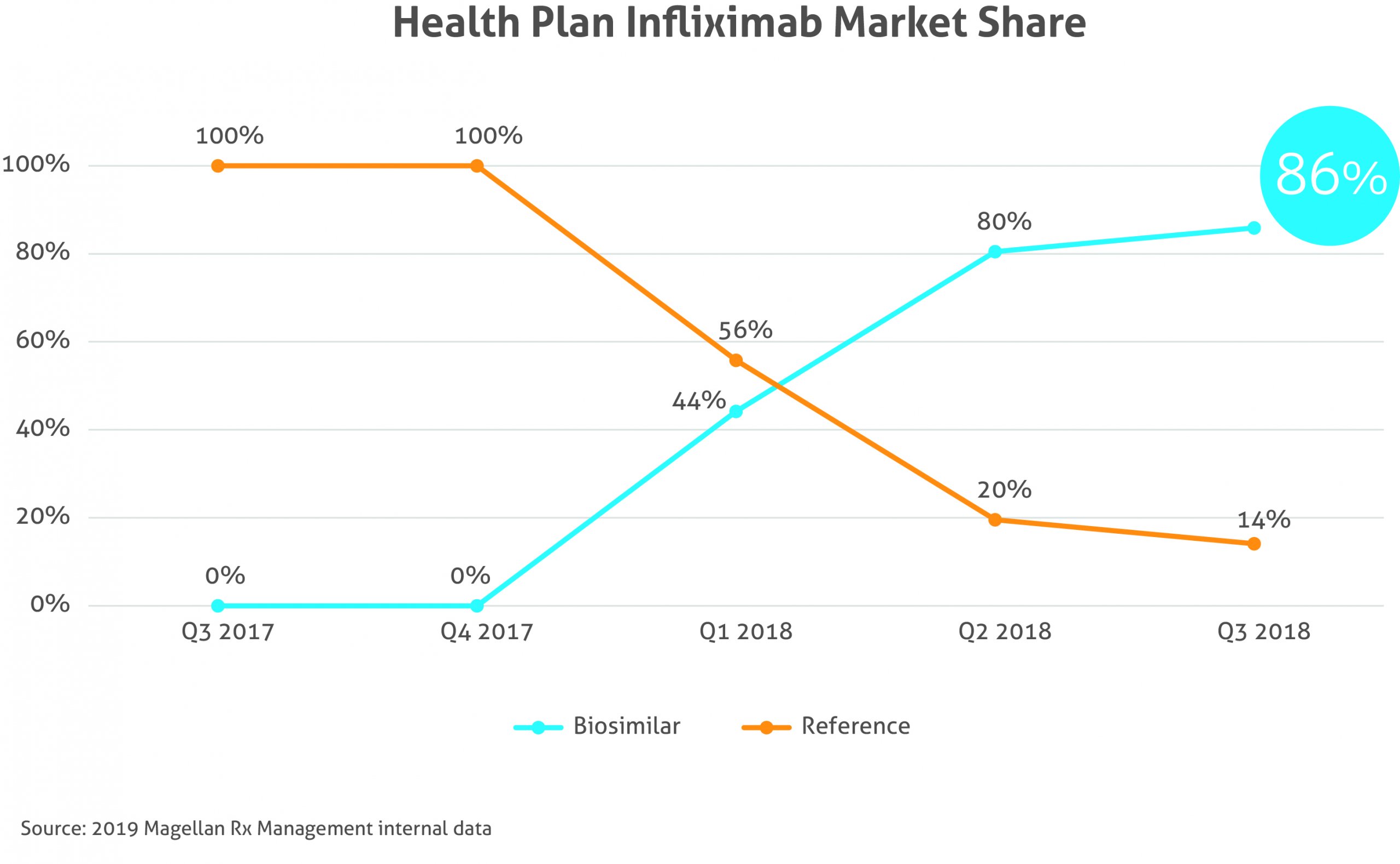 What biosimilar strategies should payers be deploying NOW to prepare for the FUTURE?
At Magellan Rx, our 16+ years of total specialty drug management expertise enables us to prepare our customers for what comes next through forward-thinking solutions that keep a pulse on future industry trends. Through successful medical pharmacy management across all sites of service, we can deliver targeted, customized solutions designed to yield substantial drug cost savings while maintaining a high level of clinical quality.
We've seen that health plans can experience a significant shift in utilization to lower-cost biosimilars through implementation of a comprehensive utilization management solution.
Initial results from our new oncology biosimilar solution show proactive utilization management of oncology drugs via step therapy increases use of less expensive biosimilars. We encourage customers to combine the power of all our oncology solutions—such as utilization management, drug wastage, dose optimization, sophisticated claims editing, enhanced regimen review, site of service management, targeted solutions for oncology immunotherapies and oncology care management—to enhance outcomes and improve member quality of care.
Learn more about our total specialty drug solutions.