Spotlight Magellan Health: Sara Pierce
Finding solutions that allow individuals to improve their overall wellbeing has been Sara Pierce's primary focus with the recent launch of eMbrace on April 1, 2022. As senior vice president of strategy and execution, Pierce has worked closely on the collaboration between Gallup and Magellan Health and the creation of the Magellan-Gallup Wellbeing Project. With over 10 years of experience working at Magellan, Pierce is a leader on the Growth Team where she's responsible for the team's Go-To Market strategy (GTM) and leads individuals on the sales operations, the sales training, and customer experience teams. Pierce, who is based in Connecticut, discusses her ongoing work with Gallup on projects including eMbrace, and how Magellan's culture has been instrumental in its success.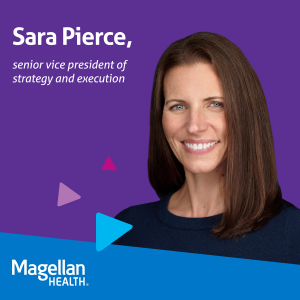 What sort of innovative projects are you currently working on?
I think the most innovative and fun project I'm working on right now is related to our collaboration with Gallup. We've created the Magellan-Gallup Wellbeing Project, joining  forces to combine Magellan's 50 years of behavioral health experience with Gallup's industry-leading insights and research to understand how we can better meet the needs of individuals and improve their overall wellbeing. Gallup's State of the Global Workplace Report tells us that roughly seven in 10 employees are struggling or suffering in their overall lives, with negative emotions at an all-time high. As an employer and a human this is deeply troubling to me.
eMbrace is a fully integrated, evidence-based solution for supporting members' total wellbeing. We're incorporating Gallup's wellbeing assessment and then introducing different solutions or opportunities for employees to engage at all levels across the continuum depending on where they are in the six elements of wellbeing. In essence, we are breaking the silo that has until now separated employee assistance and clinical care, shifting an individual from coaching to employee assistance to clinical counseling based on what is happening in their life.
Do you have any other projects still in the planning phase?
We're still in the thick of the recent eMbrace launch and it's exciting that our own Magellan associates will be one of our first customers to utilize eMbrace. This provides us a valuable opportunity to "walk the walk" and to continuously learn from ourselves and our own team. At the same time, we are exploring how we can bring this important work to our health plan, public and Federals markets as well. This is only the beginning!
Why is Magellan Health the best place to do this project?
I think we are the perfect place to do this because of our over 50 years of deep clinical behavioral health experience. Our customers, whether they are employers, health plans, public or federal markets, all have one thing in common – they all have people who are struggling and suffering. The way I think about it, is if not us then who?
What are your thoughts on the culture here at Magellan Health? How has the culture at Magellan impacted your project?
I think one of the things that's truly unique about Magellan's culture is that everyone is singularly focused on our mission to help people. We take that very seriously. I think that's a big part of who we are and why we do what we do and that it's palpable. When you're working on trying to solve big problems, it helps to bring it down to the individual level and understand that what we're doing matters to a person, a family, and an employer. That culture informs everything we do.
What are some exciting trends you've noticed in the healthcare industry? What direction do you see healthcare going? What lessons are there to learn in other industries that can be applied to healthcare?
We are in unprecedented times in terms of the rise in unmet need. More and more, as an industry, we are coming up with unique ways to try and meet those needs. One example of that is by addressing people earlier on in the continuum so that we can intervene to prevent exacerbation of illness. Offering digital assessment tools and interventions is one way to try and address the unmet needs. But of course, we can't make the mistake of letting the pendulum swing too far in any one direction. I believe that our customers want us to balance digital and in-person. The right tools to the right people at the right time.
I think one of the problems in healthcare is that the industry has not designed solutions with the user experience in mind. Meanwhile in all other aspects of our lives, our tolerance for bad experiences is getting smaller every day. Our cell phones are continuously upgraded to improve our user experience. Products and services are marketed directly to us based on knowledge of our preferences, and we have countless choices in entertainment, retail, and restaurants. User experience is king in everything other than healthcare. For too long consumers of healthcare have been trapped with few choices. The good news is that every day I see more evidence that this is changing but we have miles to go before we rest.
Learn more about the dimensions of wellness here.