The Changing World of Relapsed/ Refractory Multiple Myeloma
What a year it's been for relapsed refractory multiple myeloma (RRMM)!!  The year has already ushered in an FDA approval of a second CAR-T therapy, Carvykti™ (ciltacabtagene autoleucel, cilta-cel), in February!  Last year we saw the approval of the first RRMM CAR-T therapy, Abecma® (idecabtagene vicleucel, ide-cel). Both are approved as a single dose after at least 4 lines of therapy, with many patients enrolled in each pivotal trial having received a median of 6 or more lines of therapy.
The FDA approval and NCCN 2A recommendation for both drugs is for patients who failed prior treatment with an anti-CD38 monoclonal antibody, a proteasome inhibitor, and an immunomodulatory agent. In the ide-cel trial, 92% of patients had received prior autologous stem cell transplant while in the cita-cel trial, 90% of patients had received prior autologous stem cell transplant and, of note, 8% had received a prior allogeneic stem cell transplant. Unfortunately, RRMM has no known cure for heavily pre-treated patients. That being said,  B-cell maturation agent-directed CAR-T cell therapies reported high response rates (ide-cel:  72% ORR [28% sCR; 25% VGPR]; cilta-cel: 97.9% ORR [78.4% sCR; 16.5% VGPR]) which were durable (median DOR: ide-cel 11 months; cilta-cel 21.8 months).
MM is largely a disease of the elderly with a median age of diagnosis being 69 years. In 2018, an estimated 149,956 Americans were living with MM.  The rate of new multiple myeloma cases is trending up, with an estimated 34,920 new cases diagnosed in 2021 (1.8% of all new cancer cases) and a projected 2,410 deaths.  Even though relative 5-year survival has increased over time, it has been 55.6% from 2011-2017.
Concerns around the monetary cost of CAR-T therapy continue.  Even though CAR-T therapy demonstrates high response rates and carry the hope of a sustained, durable response, how long will response last? What treatment(s) will follow?
CAR-T therapy is a single dose, with a significant high monetary cost. The medication wholesale acquisition price for ide-cel and cilta-cel is $419,500 and $465,000 respectively. In addition, the time to product availability and rate of manufacturer product failure remains a concern (ide-cel median availability of 33 days with a 1.5% failure rate; cilta-cel median availability of 32 days with an 18% failure rate). Another hurdle is the shortage of the lentiviral vectors used to deliver ide-cel. However, the manufacturer is working to increase production.  For cilta-cel, the manufacturer plans to make vectors in-house in order to meet longer-term demand.
A forecasted cost impact model is demonstrated below. With more than 8 CAR-T drugs in the pipeline for multiple myeloma, more for hematologic cancers, and the possible expansion from hematologic to solid tumor treatment, more contemplation is sure to follow.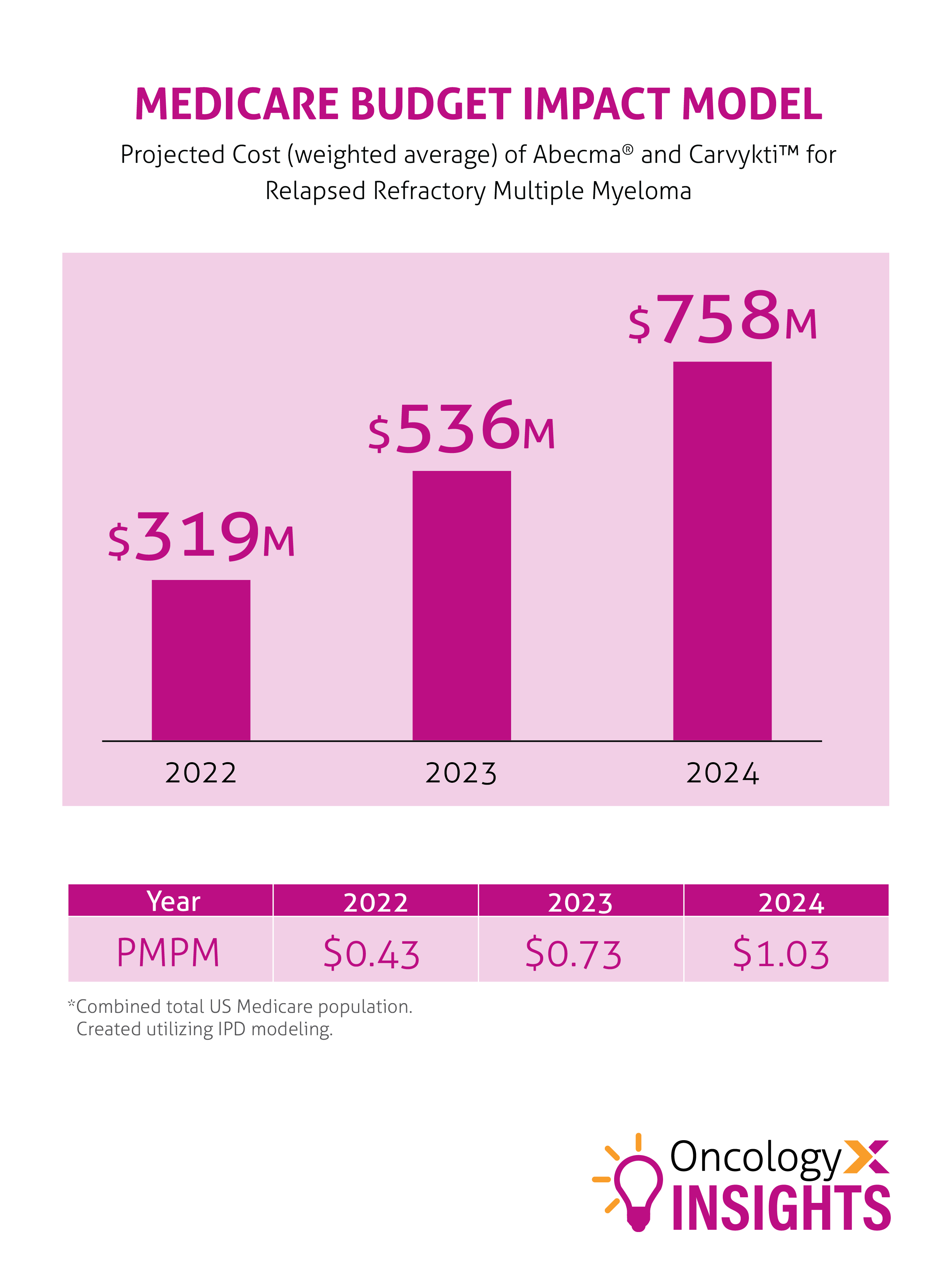 ---
References:
Martin T, Usman SZ, Berdeja JG, et al. Updated Results from CARTITUDE-1: Phase 1b/2Study of Ciltacabtagene Autoleucel, a B-Cell Maturation Antigen–Directed Chimeric Antigen Receptor T Cell Therapy, in Patients With Relapsed/Refractory Multiple Myeloma. ASH update 12 December 2021. https://ash.confex.com/ash/2021/webprogram/Paper146060.html. Accessed April 12, 2022.
Berdeja JB, Madduri D, Usmani SZ, et al. Ciltacabtagene autoleucel, a B-cell maturation antigen-directed chimeric antigen receptor T-cell therapy in patients with relapsed or refractory multiple myeloma (CARTITUDE-1): a phase 1b/2 open-label study. Lancet. 2021;398(10297):314-324 doi: 10.1016/S0140-6736(21)00933-8.
Carvykti [package insert]. Horsham, PA; Janssen; March 2022
Abecma [package insert]. Summit, NJ; Celgene; March 2021.
Munshi NC, Anderson LD Jr, Shah N, et al. Idecabtagene Vicleucel in Relapsed and Refractory Multiple Myeloma. N Engl J Med 2021;384:705-16. DOI: 10.1056 /NEJMoa2024850.
National Cancer Institute Surveillance, Epidemiology, and End Results Program. Cancer Stat Facts: Myeloma. Available at: https://seer.cancer.gov/statfacts/html/mulmy.html. Accessed April 12, 2022.
Kanas, G, Clark O, Keeven, K et al. Population-level Projections for Multiple Myeloma Patients by Line of Therapy in the USA. Poster No. 653 | Presented at the 62nd American Society of Hematology Annual Meeting and Exposition (Virtual Format) | December 5–8, 2020. https://d201nm4szfwn7c.cloudfront.net/5f95dbd7-245e-4e65-9f36-1a99e28e5bba/5b3ee4c1-c770-4504-9d91-08c64ae7bcc6/5b3ee4c1-c770-4504-9d91-08c64ae7bcc6_viewable_rendition__v.pdf?medcommid=REF–ALL-003261. Accessed 4-12-22.
Liu A. Johnson & Johnson, Legend's CAR-T Carvykti enters myeloma ring with FDA nod. Fierce Pharma. Johnson & Johnson, Legend's CAR-T Carvykti enters myeloma ring with FDA nod | Fierce Pharma. Accessed April 14, 2022
Osterweil N. Novel CAR T Therapy for Solid Tumors: 'Exciting Advance'. 2022. https://www.medscape.com/viewarticle/972297. Accessed 4-19-22.