Spotlight Magellan Health: Kristen Ford
Kristen Ford, vice president of product innovation and development for behavioral health, has led many new innovative products being developed at Magellan Health. In her position, Ford is responsible for the product innovation and development activities for behavioral health solutions. Ford, who is based in Oregon, has worked for Magellan Health for 12 years on various innovation strategies focused on best-in-class services that help members live healthier lives. She is a Six Sigma Black Belt and a clinician who's passionate about driving human-centered product development that changes lives. Most recently she's helped to launch a full continuum population health wellbeing solution to improve population engagement into evidence-based care and improve the quality and accessibility of healthcare for those that are thriving, struggling or suffering. Continue reading to learn more about Ford's work on these innovative products: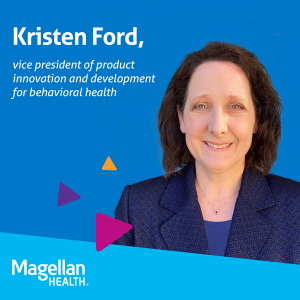 What cool, innovative products are you currently working on?
My responsibilities focus on new products that drive growth, leverage Magellan Health's thought leadership, and enhance the lives of the people we serve. One example is the development of a comprehensive autism strategy where we are creating new mechanisms for timely access to autism screening with faster diagnosis to improve early intervention. We are laying the groundwork for new clinical models that intertwine technology, diagnostics, therapeutics and facilitate better coordinated care for the whole child.
We're also working on other complex areas of healthcare such as suicide prevention. We care deeply about the recent increase in population suicide trends and our mission is to make suicide a never event. We do that through creating solutions that empower individuals with knowledge, education and tools in an environment of uninterrupted and supportive care.
Medical integration is another area of focus with our new collaborative care product which improves medical and behavioral health integration by making it easier for primary care physicians to diagnose and treat members' behavioral health condition in the office. We're looking at ways to solve important challenges in the delivery of behavioral healthcare by working on solutions that enable navigation, digital engagement, transform the delivery system and offer new models of care.
Can you expand on the work you're doing with projects like Mightier, NeuroFlow and DUOS?
Mightier is a biofeedback gaming solution that teaches children emotional regulation to help them manage big emotions and teach calming strategies. This is important because it offers a bridge to care for children and families that are struggling. It's been shown to be highly effective in randomized control trials for children with autism, ADHD, OCD or other similar conditions. It's improved oppositional behaviors in children and decreased caregiver stress. We're currently working with Mightier on a study through the National Institute of Mental Health to show that using this type of intervention can improve quality and cost of care.
We're also working with NeuroFlow to deliver a collaborative care product, which expands Magellan's value proposition with the ability to manage total cost of care. NeuroFlow brings the technology, and Magellan provides the clinical management which has resulted in a solution that is highly appreciated by our clients. We also launched the NeuroFlow population health app which provides digital wellbeing and self-care tools, including our digital cognitive behavioral therapy modules, to help members improve overall health and wellbeing, manage stress and build resilience in a confidential manner.
DUOS is an opportunity for us to address the social determinants of health and needs of older populations. DUOS provides a personal assistant for aging – a DUO – to help older adults stay healthy and age independently in their own homes. We connect older adults with social support and resources to manage social isolation, healthcare access and behavioral health needs. In our pilot results, we found that 97% of seniors were linked to resources to meet their needs and has high satisfaction with a net promoter score of 88.
Why is Magellan Health the best place to build new innovative products?
We are fortunate to have an executive leadership team that developed a culture that supports innovation. It's part of our DNA. We have been successful in evolving our innovation strategy that positions Magellan as a thought leader and innovator in the behavioral health and wellbeing space. Our executive leadership believes that innovation is essential in treating the whole person, achieving growth and moving our business forward.
What are your thoughts on Magellan's culture? How has that culture impacted the products you've worked on?
I think it's a highly collaborative and team-oriented culture. Everyone is willing to roll up their sleeves and help achieve the best outcomes. The Magellan culture is purpose and mission driven. Everyone you encounter is focused on the best ways to support our customers, ensure members have the best experience and they're getting the best care possible. I think that's the picture of Magellan and it's a wonderful place to work and drive innovation.
Currently, we have a pipeline of over 44 different products or product enhancements that we'd like to explore. People are familiar with Magellan's culture of dedication and innovation. As a result, they are willing to collaborate and advise us as we drive towards solutions that can improve the lives of those members we serve.
What exciting trends in the healthcare industry have you noticed? What direction do you see healthcare going? What lessons are there to learn in other industries that can be applied to healthcare?
There are new trends in the field of autism related to clinical advancement and how we work with children on the spectrum as well as exciting developments and solutions in managing the total cost of care. There are new approaches that allow us to combine technology and clinical acumen deliver new care models. The pandemic created an environment where members and providers used new technologies and tools out of necessity which now provides us opportunity to continue to build and accelerate the adoption of new care models through technology. We are also seeing new and exciting opportunities to engage and activate members while reducing stigma.
Some industries can market directly and successfully engage the end user. We can learn from those industries and drive growth through that engagement.
We are fortunate that the Magellan leadership team and culture supports us in exploring those recent trends and solving for some of the most difficult challenges we see in service delivery.