Spotlight Magellan Health: Karen Riccardi
Since joining Magellan Health over a year ago, Karen Riccardi has been a part of developing various behavioral healthcare products aimed at helping people to live healthy, vibrant lives.  As senior product development manager, Riccardi's main responsibility involves the development of behavioral health products and solutions that positively impact the lives of others and drive growth for the company.   Some of the products she has worked on include Magellan Healthcare's Digital Emotional Wellbeing tool, Senior Assistance solution, and Collaborative Care product.  Riccardi, who is a Licensed Professional Counselor based in Virginia, discusses the products she is working on below.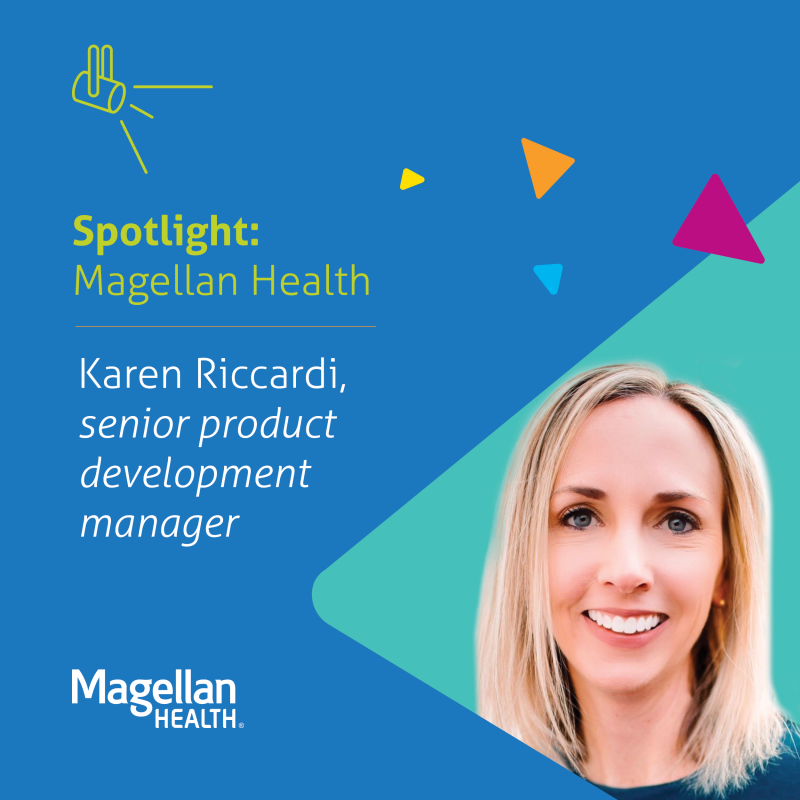 What sort of cool, innovative projects are you currently working on?
Most recently, I have been working on the implementation of our Collaborative Care Management solution that increases access to behavioral health screening and care for low to moderate-risk behavioral health conditions within the primary care setting.  By using NeuroFlow's technology and Magellan's clinical management, we can improve medical and behavioral health integration.
I've also been working on the launch of our new Senior Assistance solution powered by DUOS. Senior Assistance helps address older adults' social determinants of health (SDOH) needs and assists them in aging independently in their own homes by building long-term, high trust, one-on-one relationships with a personal assistant called a Duo.  Our pilot last year successfully addressed 93% of members' SDOH needs.
There have been several other innovative products and projects I have had the chance to work on, including the development of the Wellbeing Navigator, which provides one-on-one support and guidance for employees and their household members with complex life concerns, the launch of eMbrace, Magellan's evidence-based solution that supports members' wellbeing, and development of a suicide prevention solution that includes education, awareness, tools, resources, and addresses other health issues such as substance use and teen mental health.
Why is Magellan Health the best place to develop these projects?
Magellan has a long history of behavioral health innovation and is well known in the behavioral health space.  The history and knowledge, along with leaders who encourage us to be creative and explore new, innovative solutions, make Magellan the best place to develop products that benefit the lives of our members.
What are your thoughts Magellan's culture and how has it impacted your projects?
Everyone at Magellan is here because they want to make a difference and are dedicated to the work they do. It is energizing to work with coworkers who are passionate about what they do.  This makes working together easier and allows us to come together as a team.
What exciting trends have you noticed in the healthcare industry? In what direction do you see healthcare going? What lessons are there to learn from other industries that can be applied to healthcare?
There has been increased recognition of the importance of mental health and how it is a vital part of one's wellbeing.  Telehealth and digital tools have proven to be effective means of treatment and are helping to address accessibility to providers.  Individuals have more choices today on how they want to receive behavioral health care, allowing them to be more in control of their healthcare.  It is vital we continue to focus on products and solutions that are high quality, demonstrate positive outcomes, and provide an exceptional patient experience. Individuals need to feel comfortable in seeking behavioral health care when they do not feel well mentally.