Spotlight Magellan Health: Tonie Powell
Tonie Powell doesn't think of herself as the average operations office manager, but rather thinks of her position as the heartbeat of the company. Powell is based at the headquarters of Magellan's federal office in Arlington, Virginia, where she manages all office operations. From supporting the leadership team, assisting with facility renovations, sending cards for employees' birthdays, and supporting employee morale. As the spouse of a disabled retired military veteran, Powell faces a unique set of challenges with balancing her job and being a military spouse. For Military Spouse Appreciation Month, Powell shares her experience and how Magellan's culture supports working military spouses.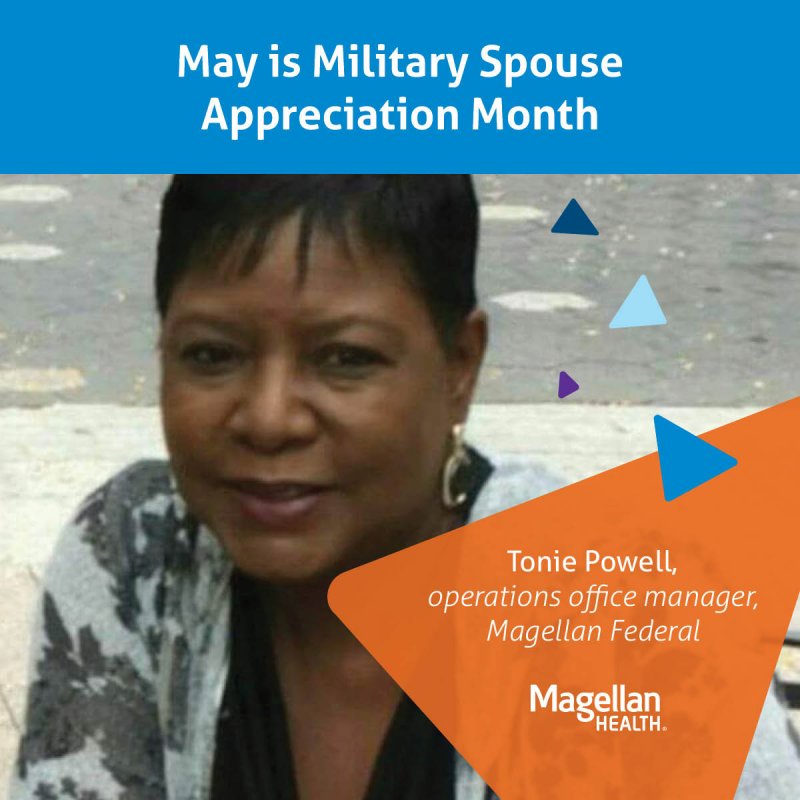 What sort of projects are you currently working on?
A major project right now is assisting with organizing a leadership summit that will take place later this year. I am responsible for leading the extremely detailed location logistics that go into planning and executing events of this scale. We are anticipating more than 100 of the top leaders of Magellan to be in attendance and there are a lot of moving parts to ensure its success. A large part of my job is making sure all the details of projects big and small are planned for so that leadership can stay focused on the task of delivering quality service and growing our business to help the service members, veterans, federal workers, and family members we serve.
How do you balance work and being a military spouse? How is Magellan supportive of your life as a military spouse?
My husband is retired military, so I do not have the same challenges I did as an active-duty spouse with childcare drama, long deployments, and frequent moves. One of the main challenges I faced as a working military spouse was that I could never take a day off for me. I needed to save my sick days for those times when my children would inevitably get sick. My husband's schedule as an infantry officer was very unpredictable. He did not have the luxury of calling his boss to say he was staying home for a child with a sore throat. Now that my children are grown adults living on their own, the challenge is balancing my work schedule with caring for my husband. I help him manage medical appointments, get him to physical therapy and help him with other things he might require. My husband is alert and capable, but as a caregiver, it can be emotionally draining and physically demanding, and I'm lucky that my supervisors are extremely understanding by allowing me to be off when I need to be. Also, being able to work remotely at Magellan has been one of the positive things to come out of the COVID-19 pandemic. While I am frequently onsite now, I still manage to accomplish more than I did in the office full time and without the commuter headaches and expense that it takes to work near our nation's capital.
What are your thoughts on the culture at Magellan?
Our mission is to empower federal employees and military personnel to live healthier, more productive lives includes those who work here as well. We have excellent resources for the people who support our customers. The flow of information is consistent and inclusive of all employees. I feel respected and that my contribution is valued. It is a great place to work!