Spotlight Magellan Health: Irvin Towson
Irvin Towson, VP of Talent Acquisition, oversees all the Enterprise, Magellan Healthcare and Magellan Federal recruiting. Based out of Virginia and with seven years spent at Magellan Health, Towson takes pride in his team's track record of finding the best talent to join Magellan Health. Targeting more than 2,500 hires this year, he is focused on recruiting strategies and execution, as well as the upcoming Centene acquisition.  We caught up with him recently to get his thoughts on how Magellan Talent Acquisition makes a difference in the lives of our teams and our members. Read more to see how Towson uses Talent Acquisition to help make a positive impact.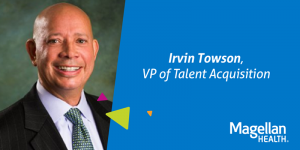 Q: What sort of cool projects are you working on right now?
A: This year we're committed to hiring 2,500 people, so that's exciting and keeps everyone more than busy. I'm always glad when recruiting is in an active state; I think it's good for everyone within the company. I like that we have an impact on the lives of people and real-world issues and I'm looking forward to expanding upon that, too.
Q: How do you sell Magellan Health to potential new hires during the recruitment process? Why is Magellan Health the best place to work?
A: We always talk about our ability to impact the lives of people that we support, including how the mental health aspects of our work have come into greater focus. Also, Magellan Health is truly a very collegial organization. Companies often talk about fostering collaborative, collegial environments, but it is embedded in our DNA. These selling points attract exceptional talent to the company, since so many people want to be part of a great company and doing work that matters. I'll also mention our culture of support and encouragement of remote work. That allows us to identify and recruit the most qualified candidates, irrespective of where they are located geographically. It opens a lot of doors for the company and individuals who could be interested in joining us.
Q: What are your thoughts on how the culture is here at Magellan Health, and how does that culture impact the recruitment process?
A: The leaders of this organization connect with employees in respectful ways. It is not an overly autocratic culture, in which the needs and feedback of team members are disregarded. I see a tremendous amount of mutual respect on display daily throughout the company and this makes a huge difference in someone's experience at work. Most people here at Magellan Health are very engaging and interested in input from others, no matter their level in the organization. The willingness of leaders to be open and connect with people is one of our distinctive features and it defines the work environment we offer.
Q: Anything else you'd like to add?
A: In my view, acquiring talent is one of the most important things any company does, and I never forget how important it is to do that better than our competition. I'm very passionate about what I do and what we do at Magellan Health. Great organizations attract and keep the best people. It is through the best people that we create superb outcomes for our employees and help leading humanity to healthy vibrant lives.