Spotlight Magellan Health: Haita Makanji
Haita Makanji, vice president, clinical strategy and innovation supporting the specialty division of Magellan Rx Management, has worked for MRx for nearly 10 years, where she has focused on helping to support payers as they navigate the pharmacy space. Makanji, who is based out of Massachusetts, leads a team of highly trained pharmacists and experts in development and implementation of clinical solutions for customers in various high-cost specialty conditions across both the medical and pharmacy benefits including but not limited to cancer, hemophilia, and rare diseases. Her team focuses on utilization management, dose optimization, care management and technology-based programs for commercial, Medicare and Medicaid patients across the country. Continue reading to learn more about the innovative projects Makanji and her team are working on in the pharmacy space: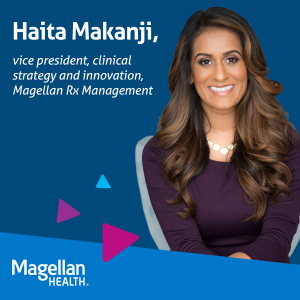 What sort of projects are you currently working on?
I'm passionate about working closely with payers and supporting them as they navigate the evolving landscape of new, expensive treatments, while also helping to deliver the highest quality of care to patients. For exceedingly high-cost specialty conditions, our emphasis is always on value through delivering clinical solutions that offer the most appropriate treatment to patients while combating the rising spend payers are facing.
For example, a recent project centers on a one-of-a-kind solution for payers focused on precision medicine in the oncology space, which is the highest-spend category for specialty drugs on the medical benefit for over 10 years. This is an exciting, next-generation pharmacy initiative where we will be combining genomic testing with drug selection for providers who treat cancer patients and meeting a critical need for payers who are looking for more complete solutions on both the medical and pharmacy benefit.
In 2021, we launched a comprehensive high-cost therapy program to provide enhanced utilization management strategies and case management referral for ultra-rare diseases. Payers often struggle to identify specialized experts, either internally or within their network, so our ability to leverage our MRx Expert Clinical Network of more than 175 key opinion leaders who practice various specialties, combined with our team of experts, offers a unique opportunity to support treatment decisions that leads to better health outcomes.
Why is Magellan the best place for these projects?
I'm proud to work for an organization that has a deep understanding of medical and pharmacy trends and a history of pioneering industry-first solutions for specialty drug management. With 17 years of experience in managing specialty conditions, we are unique in the marketplace.  Our customers routinely expand their collaborations with us because we continuously elevate our suite of solutions with innovative and forward-thinking approaches. Our mission is to help patients live healthy, vibrant lives and we accomplish this by ensuring that the right patients receive the right therapies at the right time.
What are your thoughts on the culture here at Magellan? How has that culture impacted your work?
We have a family-oriented culture where we collaborate and have a true understanding and trust of each other. Magellan fosters an environment that encourages open, honest feedback in all teams. Magellan also provides employees with the opportunity to challenge themselves and embrace new opportunities. This is imperative as we innovate and bring new programs to the market.
What exciting trends are you noticing in the healthcare industry? In what direction do you see healthcare going and what lessons are there to learn from other industries that can be applied to healthcare?
I'm energized by how quickly our industry is adapting to new technologies and advancements in the delivery of healthcare. Particularly in digital health solutions with the shift towards value-based care strategies and the pivot to personalized medicine.
The market will need to be laser-focused on providing clinically appropriate, personalized care at the lowest cost for both payers and patients.
One lesson we can take from other industries is the ability to be nimble and flexible. Disruptors in every sector of healthcare are bringing new offerings directly to consumers in the hopes that simplicity and transparency will cultivate consumer loyalty. We can take advantage of the availability of data and deployment of new technologies to respond quickly to changing market dynamics and the needs of our customers and their unique patient populations. While we have a proven track record and hundreds of successful case studies across our suite of solutions, it's important that we never stop innovating!