Spotlight Magellan Health: Chris Squillaro
As a Medical Director for Magellan Behavioral Health of Pennsylvania, Chris Squillaro, DO, manages many different responsibilities. As a supervisor of the Pennsylvania medical staff, he performs reviews, attends complaint and grievance hearings, and leads various rounds with our care managers. Dr. Squillaro also provides the executive leadership with input on strategy and focusing on prioritizing what's important to our county customers. Whenever a medical opinion or perspective is needed, Dr. Squillaro, who has been with Magellan since 2021, always provides that medical input into the initiatives and intervention being done in Pennsylvania. Continue reading to learn more about what innovative behavioral health projects and initiatives Dr. Squillaro is currently working on in Pennsylvania: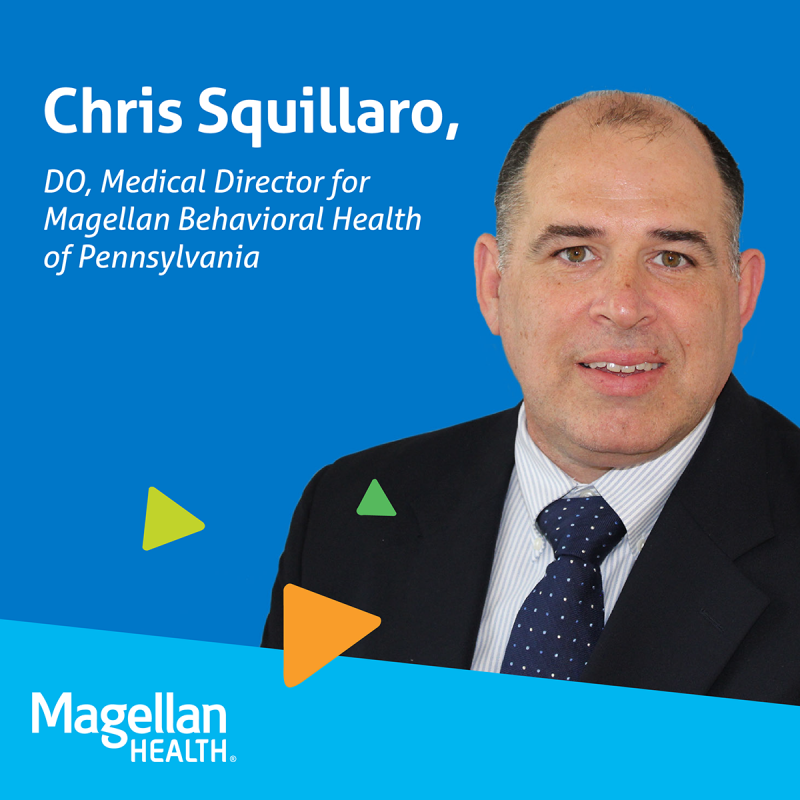 What sort of innovative projects are you currently working on?
There's an enterprise-wide movement to develop a common suicide pathway to decrease suicidality. Pennsylvania is heavily involved with that project although it involves more than just Pennsylvania. I've been working on this with the corporate and Pennsylvania leadership.
We are also doing a project in Pennsylvania called Project Red, which aims to decrease readmission rates and standardize the discharge process. This is a project that's being led by two researchers out of Massachusetts who had developed Project Red originally for the medical side, and they want to convert it to the behavioral side.
I'm also involved in a trauma informed care summit because of a Pennsylvania Commonwealth initiative. The goal is to transition all the Commonwealth residential treatment facilities to tiered trauma designations that demonstrate competency in trauma care for children and adolescents in that level of care. Included in this would be consistent trauma screening and treatment, decreasing physical and chemical restraints, having a trauma informed lens as patients move through care and awareness of experiences in the milieu that may be triggering.
We also have a medication adherence project where I clinically supervise the pharmacist who is working on improving medication adherence for some of our more severe patients through direct member education and training.
Why is Magellan Behavioral Health of Pennsylvania the best place to do these projects?
I think we have a holistic view of the healthcare delivery system, not just within individual units across the country but enterprise wide. We have our eyes on national issues through touchpoints with the corporate team. We understand what Pennsylvania's priorities are, what their initiatives are, and what issues are important to them. We can get even more granular at a county level. Each county is in tune with what are its' constituents wants and needs. Pennsylvania is very diverse, there are swings in socioeconomic status between regions and resources. We get this population health view at a national level, that then is informed all the way down to the county level so we can see it not only for what's important from a national perspective, but then in each Pennsylvania community. With that information, we can come up with the best way to approach problems.
I think there's also a lot of willingness and eagerness to use technology at Magellan. It helps us to sort and track outcomes. Magellan is really getting involved with technology, this is something that'll be hugely helpful for what we can do in the future.
What are your thoughts on the culture at Magellan Health? How has that culture impacted the projects you're working on?
Before I worked at Magellan, I was a provider. Magellan has always been willing to try new things. If providers had a good way of solving common problems, in my experience, Magellan was certainly willing to entertain it and develop programming around it. I think that willingness to adapt, change, and try new things is what makes projects successful. The culture of being able to move around problems and to adapt is one of the things I saw since before working at Magellan and has only been reaffirmed since I've joined this team.
What direction do you see healthcare going in? Have you noticed any exciting trends in the healthcare industry? What lessons are there to learn in other industries that can be applied to healthcare?
I feel we are learning from the way that care is delivered on the medical side. Using outcomes and data to make decisions is one of the things that's exciting in behavioral health. Some screening tools that have been developed have become more reliable and it's starting to create a common language that we can have with our medical counterparts. This then creates opportunities to coordinate at key levels of care. There's also a lot more collaboration between medical and behavioral health. It's not new information that behavioral health has a significant impact on medical costs overall and medical quality. I see medicine becoming more integrative. On the behavioral health side, we're catching up on the importance of data-driven decision-making outcomes and managing from a population health perspective.
Another trend is in customer care. We are learning from industries where customer satisfaction is critical to ease of access, utilization, adherence, and adoption of a plan. We're doing a lot of customer surveys and making sure people are happy with the service that they're getting.
Lastly, we're adopting the standardization and checklist mentality that I most associate with the airline industry. This is a public safety concern that has been effectively managed by airlines to assure safety and limit mistakes. We are utilizing and promoting standardized tools and checklists to consistently diagnosis issues. We are then using algorithms to standardize treatment pathways. This assures consistencies across providers and assures that the most appropriate evidence-based interventions are being utilized to treat people.