Spotlight Magellan Health: National Employee Health and Fitness Day
On May 17th, we celebrate National Employee Health and Fitness Day! By sharing tips on how to stay active even during busy workdays, National Employee Health and Fitness Day is a day to raise awareness of the health benefits of physical activity and remind employees about the necessity and advantages of regular physical activity. Physical activity provides a much-needed break from the stress of everyday tasks and duties and gives us energy, boosts mental ability, and prevents fatigue throughout the rest of the day. Magellan Health's Evergrace Davis, associate information security compliance analysist, is also an AFAA Certified Group Fitness Instructor. In 2020, Davis launched "KeepItMovin with Grace," a workout program that provides individuals of all ages and fitness levels with fitness classes and step challenges. Davis began her fitness journey over 12 years ago as a workout class instructor and lives by the motto, "keep it moving" with the goal of living life to the fullest. Continue reading to learn Davis' tips on how employees can find ways to include physical fitness throughout even the busiest workdays.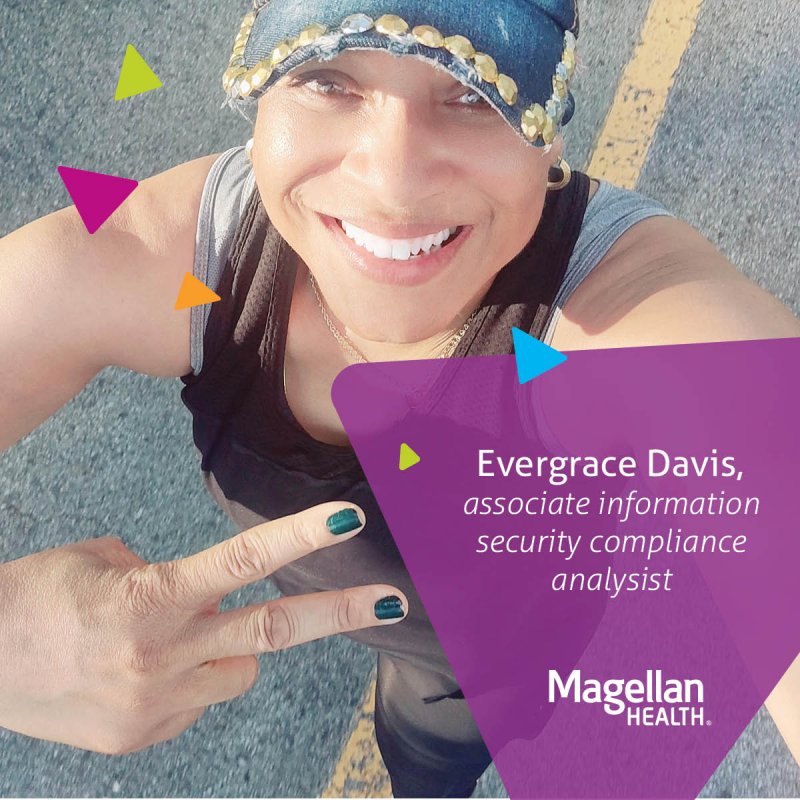 How can employees who work from home find ways to prioritize health and fitness throughout their workday?
I know that working from home can be challenging but we must find ways to prioritize fitness by keeping our bodies moving. Fitness is so beneficial to your health and can improve your work mood and overall health.  I suggest trying the STOP method which means "Stop Typing on PC." Practice this by blocking off time on your calendar for fitness breaks. Scheduling time is making fitness a priority because we sit for hours in one place and many only get up for coffee, lunch, and bathroom breaks. Here are some suggestions below:
Put on your gym shoes and go for a walk around the block.
Step away from your computer for five minutes of stretching.
Getting some direct sunlight improves your health making you feel recharged and refreshed to continue with the workday.
How can employees who work in an office find ways to prioritize health and fitness throughout their workday?
There are ways for employees to prioritize their health and fitness while working in the office throughout the workday both indoors and outdoors. The STOP method still applies while in the office!  Block off time and schedule your fitness breaks. Always be prepared for working out by having a change of clothes, towel, water bottle, and gym shoes in the car. Here are some more suggestions employees can do while working in an office:
Indoors: Walk up and down the hallways, up and down stairs, go the fitness center if your company provides one and get on the treadmill, stretch, or lift some weights.
Outdoors: Go outside to stretch or take a walk around the building, or a quick jog.
By doing this, employees can improve their mood and health by making sure they keep moving even during the workday!
What are the benefits of regular physical activity? What are some easy ways for employees to add physical activity into a busy workday?
There are so many benefits to maintaining regular physical activity. By prioritizing physical activity consistently, your body learns to look forward to daily movement and exercise. Another benefit are the results that you will see from consistently staying active. You may find yourself feeling better, less stressed, and possibly experiencing more energy, and better sleep.