Spotlight Magellan Health: Emily Ferris
After experiencing for herself the benefits of Magellan Health's youth leaders inspiring future empowerment program, also known as MY LIFE®, Emily Ferris, national director of youth empowerment, has been an integral part of the team working to reimagine the program. Ferris' main responsibility in her role includes supporting recovery and resiliency initiatives. Also, as a certified peer support specialist, Ferris uses her lived experience of mental health recovery to help increase opportunities for young people to develop their resiliency. In the recovery and resiliency department, Ferris is focused on providing community-based engagement opportunities for young adults from a peer support perspective. Continue reading to learn more about Ferris' work with recovery and resiliency: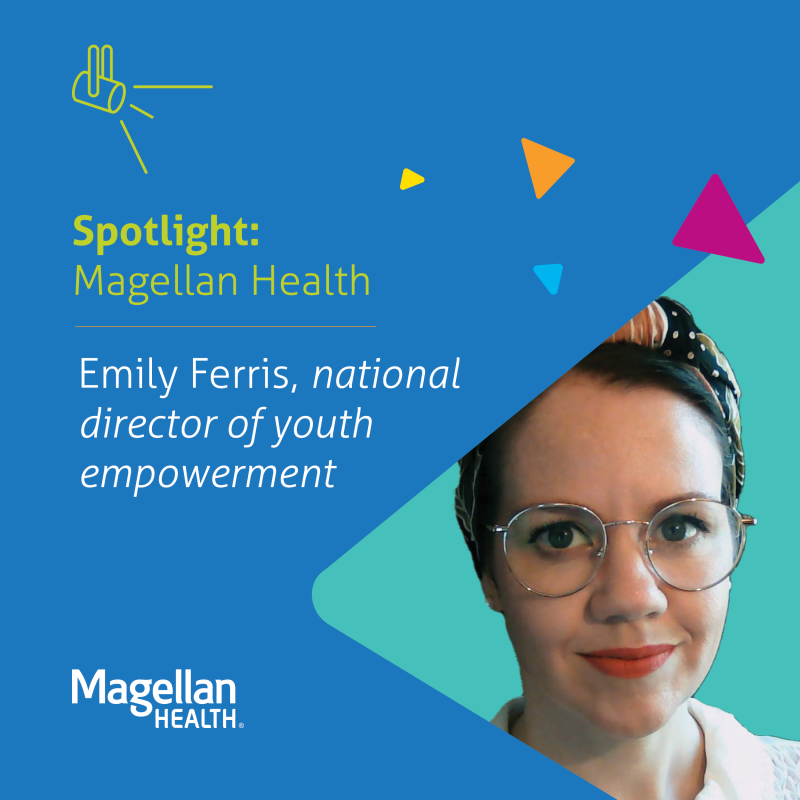 What new and innovative projects are you currently working on at Magellan?
I'm really excited about the MY LIFE® initiative which Magellan launched in 2008. We're currently working on relaunching MY LIFE® in our public sector businesses. We're doing some exciting work around figuring out what the next iteration of the program will look like and how to keep providing the great educational and community integration opportunities that we've always had. We're looking at the program holistically so we can continue to evolve to meet the needs of those individuals that we serve while moving the program into the future.
Why is Magellan the best place to do this project?
Magellan is really the only place to do this type of project in terms of being a leader. For years, Magellan has supported youth development and collaborated with youth serving systems. Since MY LIFE® began in 2008, Magellan has really focused on this population and the underlying principle that the program should be youth guided. Magellan has been actively investing in youth and young adults, we're really leaders in that. Young people are at a crucial stage in the development of their future social, civic, economic, and vocational success. We recognize that it's important for young adults to get excellent clinical services, but they also need opportunities to develop community and leadership skills. A lot of what we do is just giving young adults space to take on leadership and trusting in their abilities and strengths.
As a young person in my early twenties, I was introduced to MY LIFE® and through the program, I got the opportunity to tell my own recovery story, learn leadership skills, and learn how to advocate for myself and others. I can't imagine any other organization being able to replicate the kind of success and work that Magellan has had with MY LIFE®. We have a whole team across many different lines of business who are really committed to offering youth opportunities to grow.
Could you expand more on your personal experience with MY LIFE® and how that's helping you to provide input as the program is reimagined?
I'm an individual in recovery from an eating disorder and other various mental health conditions. I was really struggling with my mental health in my adolescence and early twenties and was connected to clinical services, but not successfully. I didn't have a lot of hope, and it wasn't that I didn't believe in recovery, I just didn't believe in it for myself. I was then connected with a community organization in Bucks County, Pennsylvania, and that organization introduced me to peer support. Peer supporters are people who have lived experience of mental health or substance use recovery and they receive training and become certified to offer non-clinical support to other people on their recovery journey. I started to do some advocacy work through that organization which connected me to the MY LIFE® program. At the time, MY LIFE® offered monthly meetings that would offer motivational speakers and other educational opportunities. I got connected to some training programs through MY LIFE® and was eventually certified as a peer specialist.
I really credit the combination of those two programs with providing me with the skills I needed to develop a career. There isn't anything more personally meaningful for me than having the opportunity to provide that same education and learning to other young people.
I worked for that community-run organization for a while before being hired with the Pennsylvania Health Choices Business, where I facilitated the Bucks County MY LIFE® program for almost five years. That was an opportunity to work directly with youth and to have them provide us with guidance as a serving system, to provide opportunities to them to learn and develop their own programming. They helped us launch a lot of great clinical programs in Bucks County and other educational events for the community.
I'm deeply committed to the program because I have not only benefited from it myself, but I've seen the benefits that it offers for other young people. I also never want to downplay MY LIFE's® collaborations with community-based organizations that provide youth with the connections, knowledge, resources, and appropriate engagement that they need.
What are your thoughts on the culture at Magellan, and how has that culture impacted these projects?
In my experience at Magellan, there is a lot of willingness to collaborate with others doing great work in the communities that we serve. I think that just makes us stronger as an organization. There's also a culture of growth at Magellan that has benefited me. The opportunities to be really engaged not only in what we're doing well, but to also be incredibly supportive around making sure that we are continuously evolving to meet the needs of the people that we serve.
In what direction do you see healthcare going in the future?
I think peer support is increasingly being recognized as an essential offering for people, particularly youth and young adults. There's still a lot of stigmas around mental health and substance use and work to be done about that, but we're seeing the evidence that peer support is invaluable to people's recovery. I can speak personally to the power of peer support. I think finding opportunities for people with lived experience to offer leadership is important. We're starting to see more of that across the board in the healthcare setting.