Spotlight Magellan Health: Meredith Delk
Meredith Delk, general manager of the government markets division within Magellan Rx Management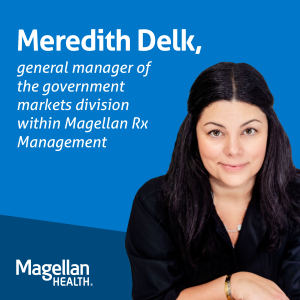 What is the government markets division within Magellan Rx?
We are the largest pharmacy benefit administrator across 27 states and Washington D.C. working with Medicaid and public health agencies. We partner with states across the country to ensure that their Medicaid or AIDS Drug Assistance Program (ADAP) enrollees, depending on the state, have access to the drugs they need at the right time and at the right place. Additionally, we process approximately $18 Billion in rebate dollars on behalf of 20 states annually.
How does your work in the government markets division align with Magellan's mission of leading humanity to healthy vibrant lives?
Our work is focused on people living in poverty across the United States. So, irrespective of the state and specific program, everyone we serve within the government markets division is affected by poverty and our commitment is to provide our customers (government agencies) and the consumers they serve with best-in-class service to access medications, therefore positively impacting their quality of life. We have about 1,000 employees on any given day who are dedicated across 27 states to ensure that the individuals we serve have a role in accessing their drugs and that they understand that their voices matter.
Further, we are deeply committed to our work across the country administering ADAP, thru our ADAP Center of Excellence. This is a federally funded program benefiting those who are affected by HIV and AIDS. As a result, these members are able to receive their life changing and lifesaving medications. In addition, there are wraparound services and other support services for people living with HIV and AIDS who do not have commercial healthcare and are not on Medicaid. The Ryan White program created a solution to ensure that, regardless of your socioeconomic status, if you are affected by HIV or AIDS, you will have access to medications. It is a fantastic program and one we are honored to be a part of here at Magellan.
Given everything that's happening in healthcare right now with the pandemic, how does Magellan's mission and improving customer service relate to the work you're doing?
In many respects, the work we are doing in the government markets division supports the fabric of the safety net for millions of Americans. We know that through this pandemic unemployment has been on the rise, which means Medicaid enrollment has been on the rise, throughout the country. We also know that mental health issues have increased, creating additional challenges related to overall physical health and access to behavioral health services and medications. Within Magellan Rx and the government markets division, we're on the front lines with our customers.
We partner with public health agencies to provide them real time solutions beyond our core POS work, for example. Right after the COVID vaccine was made available a Governor in a state where we have business announced during a press conference, that Magellan's call center would be the vaccine hotline for every person in that state, regardless of their type of insurance. Almost overnight, we stood up a call center to support that state in improving their vaccination rates. We're listening to and keeping a close eye on new and innovative challenges that Governors and Medicaid regulators have experienced during this pandemic.
How does your background in social work influence the work you're doing and your leadership style?
I'm a trained clinical social worker and I also have a PhD in counseling. I have spent quite a bit of time while working on the PhD focused on people living in poverty who were also affected by a mental health issue and more specifically families who had a family member affected by severe mental illness. Additionally, I worked on the streets of Washington DC with people who were homeless and seriously affected by poverty, who also suffered from serious mental health issues. That's really where I grew up in my 20's, focused on people living in poverty and their access to mental health care. I worked at a lockdown stabilization unit for people who were suicidal and homicidal. It was a 7 p.m. to 7 a.m. shift on Friday and Saturday nights at the lockdown unit. That's how I put myself through graduate school. I have seen firsthand the effects that mental illness and poverty combined have on people, families, and communities. In many respects, that is what created the foundation of my career. It helped establish the first pillar of my leadership style which is focus on your people first.
What is your strategy for keeping your team on mission and integrating them into the broader Magellan culture?
Every business leader and CEO rightfully would answer that question by talking about being best-in-class and supporting those we serve. I think the difference between us at Magellan and many other teams is the drive it takes to do that every single day. We are very disciplined about the data and metrics that bring to light how well we are doing on behalf of our associates, customers, and members.
I'm a former Amerigroup executive and Jim Carlson was the CEO when I went to work for them after spending a few years in state government. At AmeriGroup, I was very young and very green. I had the benefit of working under an extraordinary executive team led by Jim. Jim used to say, 'don't confuse effort with results.'  This aphorism has defined much of my career. To this end, we focus a great deal on the results we achieve with our customers, associates, and other key stakeholders.
The true measure of how well we are doing includes metrics like winning new business, bringing on new customers and retaining existing customers. In 2020, the government markets division earned a 100% customer satisfaction results. We surveyed all our government customers who are Medicaid regulators, and achieved 100% satisfaction, which is extraordinary and a direct result of the terrific work that our team does day in and day out.
Additionally, we have among the highest associate engagement scores on our internal customer service surveys. There are 28 people on my leadership team who bring 369 years of experience in our fee for service PBA (pharmacy benefit administration) business. On this team, 20 of those individuals have more than 10 years of experience with Magellan and eight of those individuals have more than 20 years. Three people have over 30 years of experience and the longest serving person on the team has 39 years of experience with Magellan. So, when you think about that, you know the turnover among leaders and subject matter experts is very low. This team is fundamentally about the people who come to work every day – they are truly focused on getting good work done, they like one another, they want to be here, they enjoy the work they're doing and feel respected and valued for it.
What is exciting you about where we're going, in terms of both Medi-Cal and Magellan Health as a broader company?
It is an exciting time for us in the government markets division. Medi-Cal is an extraordinary project, and it has been a true testament to the commitment and leadership brought by hundreds of people across the company and an exceptional California-based team led by Billy Thomas. They have shown up every day for the last year and a half, even during the pandemic, and are a team that's so deeply committed to this work, and we will go live with Medi-Cal on January 1, 2022. The Medi-Cal project is transformative for the government markets division.
Additionally, we're very excited about the work within the ADAP business. We've recently piloted our Navigate Whole Health program with our ADAP members. Results so far have shown us that very simple and straightforward clinical interventions with our providers and prescribers can really move the needle on quality and general efficacy of treatment modalities for HIV and AIDS medication. For example, we developed a regimen for one patient who didn't want to take medications at work. As a result, the patient will be more compliant with the regimen. I believe it's about adding more value and being a smart and sophisticated partner to these government entities and the people they serve.
Our national footprint allows us to be big thinkers. We can be more thoughtful and add more value because we are in 27 states across the country and every state is a little different. We also have the ability to leverage expertise, technology, infrastructure and innovation across the country.
Are you currently hiring for the Medi-Cal team?
Yes, we are. It's a truly extraordinary project and an opportunity to be part of a team like no other in the country. There's no state that has done quite what California has done with their Medi-Cal pharmacy benefit. This is a full drug carve out for all 14 million Medi-Cal enrollees.  It's an opportunity to join a team led by Billy Thomas and his leadership team who are the best in the business. I also think it's an opportunity to join a team where growth and development is a big part of the culture. We're just very proud of the work that we have done with the state of California so far and are excited about serving them in a meaningful way. Anyone who's interested in being part of that team should find out more. It's a great team and it's important work.
Learn more about joining the Medi-Cal team here.